Help! I'm a bike nut!

I'm a bike nut. My feeling is that anyone who has owned as many as 5 bicycles at one time pretty much qualifies (these days I'm down to 3). I took up biking in May, 2003 with the idea of blowing off steam (I had just taken on a stressful volunteer position). My pal Joe Penano is partially responsible--he kept waxing poetic about mountain biking. With my stress-level cranked up, the idea of mountain biking was suddenly appealing. These days my life is less stressful, but I love biking so I keep doing it.

Years later, I'm basically a roadie--I even gave up the mountain bike.



Biking instead of driving? It's a breeze!
When people tell me that bicycles are difficult to use and need special clothes or equipment, I used to tell them about modern "townie bicycles" that are designed to simplify all that. Now I just show them my Breezer Uptown 8.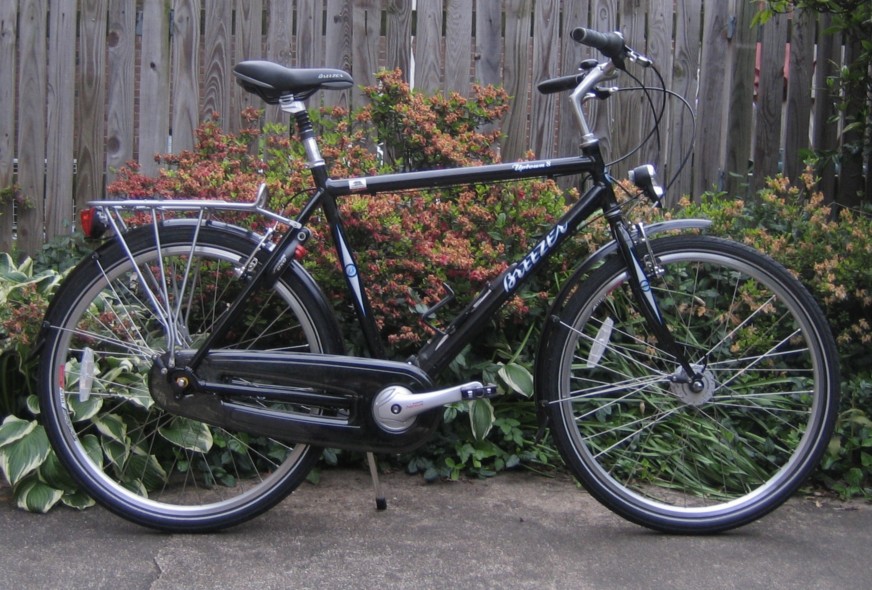 The Breezer features a full chainguard (no need to tie up my pants leg to keep it away from the chain), an 8-speed internal transmission (speeds are numbered 1 through 8--nice and simple), a built-in lock (extra security), fenders (to keep my clothes clean), a rack (to carry my stuff), and dynamo-driven, built-in lights (no batteries needed). The lights are particularly great. When I need them, I reach down while I'm riding and flip a switch. I added a water-bottle holder and pair of folding baskets and was good to go. The year I bought this bicycle, 2010, was also the first year when I rode more miles than I drove.



Quit dreaming and get on the beam
From the elves of Rivendell comes the 2006 Rivendell Quickbeam singlespeed bike...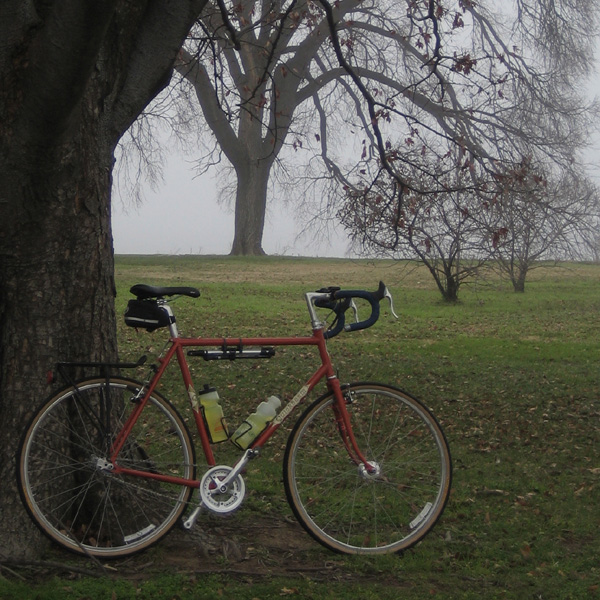 Actually it came from Japan via the Rivendell Bicycle Works and Craigslist. I bought it as an upgrade to my previous singlespeed city bike, the Brodie Unibomber. I wanted a road bike with a steel frame, drop bars and a good fit and this is it!

Rivendell is an interesting company with a lot of interesting ideas about bikes and riding. One of these is that the typical racing bike that is sold isn't a good fit for normal humans. For this reason Rivendell bikes with a more upright geometry than the typical bike. This works for me, with my long legs and limited tolerance for having the handlebars lower than the seat. The Rivendell folks also build frames in a very "old school" style, with lugs connecting tubes.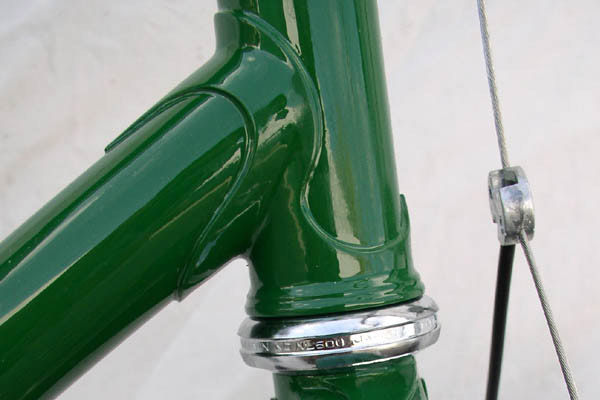 This picture (above) shows the lugged connection between the headtube and the downtube on a Rivendell Quickbeam. The lug is the curvy bit that wraps around both tubes. The result is a pretty bike that is likely heavier than a non-lugged bike, so I have mixed feelings about it. I expect it's tougher than a typical racing bike, so I'm happy about that. Mainly I'm happy it fits me.

On the downside, the Rivendell folks thought it would be cool to set this bike up with a quick-release axle on the rear hub. This is crazy, given how much force one can put on a singlespeed chain (enough to make the chain jump off the sprocket on a geared bike). They also though it would be cool to set it up with two choices for the chainring (one has always been good enough for me) and a chain guard set outside of the large chainring (I'm sure I can get chain gunk on myself with or without it). In other words, it's a singlespeed with three rings up front. Seriously, why not just fill one the of tubes with lead shot? Or strap a brick to it? Not just any brick, of course, but a Rivendell brick, thick and well kept.

Summary: Rivendell is easy to make fun of, but they make a bike thats tough enough for city streets, that fits me and that's fun to ride. Since this picture was taken, I did away with the extra chainrings. To keep the QR axle in place, it now has a chain tensioner on each side.

Quickbeam fun facts:
Like any singlespeed bike, this machine delivers more fun per dollar and more workout per mile. Less gears! More beers!
I got this bike from a gentleman who only had it long enough to take a few parts off and put them back on wrong. Some I was able to correct myself and the rest (the brake cables) were repaired at my trusty local bike shop.
The elves set it up with a sensible 40t chairing, 18t freewheel, and 700X32 tires (60 gear inches). I upgraded it to a 16t Eno freewheel for a more typical 69 gear-inches (seems like a good number...).
This bike was funded in part by the 2006 Winter Holiday "Jonathan needs a new bike--no really, he does--fund." The JNANBNRHD Fund was only slightly fraudulent in that the bike was actually purchased on November 29. I wasn't planning to buy a bike so soon, but it fit and the price was right. I was so busy with the holidays that I didn't get it fixed up and out the door for its first ride until December 23.
One week after my last bike (the Bike Friday) arrived at my house, my supervisor came into my office to announce that funding problems had put my job in jeopardy. Nine days after I bought this bike, that same supervisor came into my office with an offer of a new position with stable funding. Spooky!
Thanks go out to my father, who contributed to the JNANBNRHD Fund and to my pal Geof, who alerted me to the Craigslist advert.



Come fly with me
My most well-traveled bike is a 2005 Bike Friday Pocket Crusoe. Here it is with me in New Orleans, on Bourbon Street, about a week after it arrived at my house. I went riding almost every day, early in the morning while the day was still cool. I spent the rest of my time eating and drinking (it's New Orleans - that's what you do) and looking for a new job. The job is a story for another day, but I will say that the bike was (and is) a welcome escape.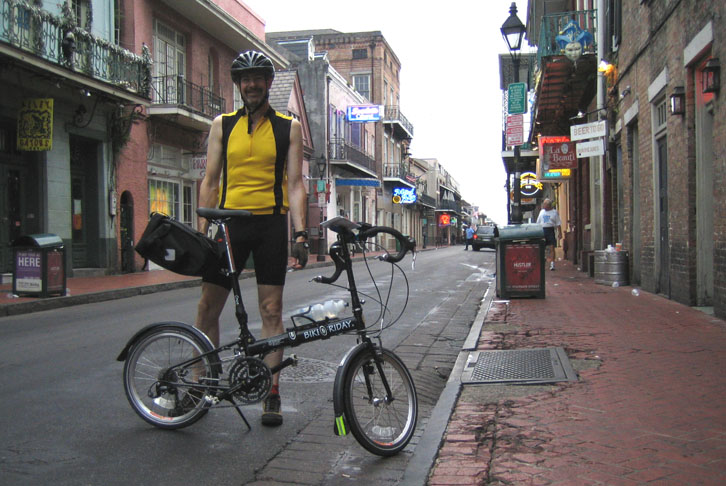 The Crusoe is a light touring bike. The cool thing about touring bikes is that they are usually built tough enough that one can confidently head out on a dirt road in the middle of nowhere. BTW, the idea of riding in the wilderness--hiking on wheels--is part of what made mountain biking attractive to me in the first place. As it turns out, riding singletrack is more intense than just hiking on wheels, but that's a story for another day.

Like all Bike Fridays, my Crusoe is designed to be packed in its own suitcase (packing instructions are here). I take it with me whenever I'm out of town for more than few days. I also use it for bike touring. More expensive than all of my other bikes combined--the rest cost about $800 each--it is as light as my singlespeed mountain bike. Bike Friday makes great bicycles (Google them - there is so much BF enthusiasm out there that you may become concerned that I've joined a cult). Like most Bike Fridays, this one was custom built to fit the rider. Since the picture above was taken I've stopped using the fenders--they just don't seem to make that much difference.

This bike goes with me on as many as four plane trips every year, where I ride it around town when taking a break from work or on the way to work. In December 2010, on a trip to San Francisco, I realized that I had came full-circle with this bicycle. Whereas I used to dress up in "bike clothes" and go for rides instead of shopping, I now wear regular clothes and combine riding, sight-seeing, and shopping by bicycle. It helps that, these days, I am better at choosing sweat-tolerant outfits that look good on and off the bicycle. As of 2011 I had over 10,000 miles on this bicycle. For me that's a lot.



The Late Greats
Since taking up biking again in 2003, I've gotten rid of more bikes as I own (I know some married guys whose wives wish they could say that). I started out with one idea of what I wanted to do on a bike and ended up with quite another. This is why beginners should buy low-end bikes--it can take quite a few miles and a lot of exposure to bike culture to find out what one really needs to get to a destination, in terms of exercising, socializing, or fitting a bicycle into a daily routine.



Follow me...
In my case I thought I wanted to mountain bike. After learning about singlespeed bikes and reading stories by former full-suspension bike owners who gave up their $2500 FS bikes for sub-$1000 singlespeeders, I decided to skip a step and go straight to the singlespeedy. Later, after hearing stories from former mountain bikers who first dislocated a shoulder and then gave up mountain biking, I decided to skip that step too. Now I focus in road biking.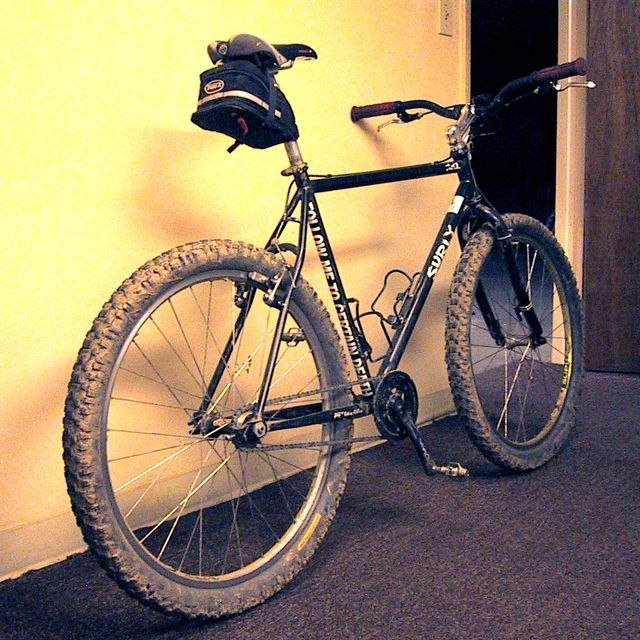 This is bike that started it all for me - a 2002 Surly 1x1 singlespeed mountain bike. My first bike since I started cycling again (I stopped after graduate school in 1986), this bike was a singlespeed mountain goat, with lower gearing than most other singlespeeds I've seen. The "follow me to certain death" sticker, donated by my pal Joe, makes it look like it should've been ridden by a risk-taking maniac instead of my cautious self. Surly is a small company with a good reputation and a great attitude; they are based in Minneapolis, a city with similar attributes. It's arguably the coolest bike I've ever owned.

Purchased via e-bay, my Surly arrived on June 10, 2003, the same day I was elected to the board of a chaotically-run (and therefore rather stress inducing) social organization that shall remain nameless My aim, partially accomplished, was to give them the organizational tools to scale back on the chaos (I eventually concluded that they like chaos and we parted ways). In the meantime I pounded out the miles, learned to repair and adjust bicycles, and discovered that Washington, DC, is a good town for bike nuts.



Sure it's Canadian and it's named after a terrorist, but ...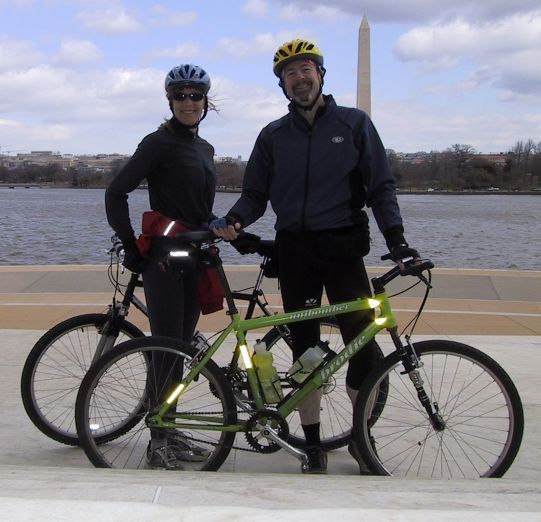 2000 Brodie Unibomber. Three short months after I got my first bike (a singlespeed mountain bike - see above), I decided I needed another one for riding around town. Singlespeeding is a fun way to ride because of the simplicity. With a singlespeed, you get more fun per dollar and more workout per mile. This picture was taken in April, 2004, when my sister Teresa visited and joined me for a windy ride around Washington, DC. She is pictured with the suicide machine (see above).

I bought this bike used via a Mountain Bike Review classified ad. The Unibomber is named for the single drive sprocket (uni) and for mountain biking (bomb down them slopes). The armed guards where I work occasionally confused the name with the Unabomber, a famous American terrorist. Oops!

Once I stopped messing about with the setup (I swapped a lot of parts between the Brodie and the Surly) and settled on the gearing (68 gear inches, if that means anything to you), this singlespeed began to live up to its reputation for maximum fun and minimum maintenance and became the bike I ride the most. That is I rode it a lot until I got the Rivendell and Craigslisted this one into the hands of another singlespeed enthusiast. Less gears, more beers!



The best bike is the one that's with me right now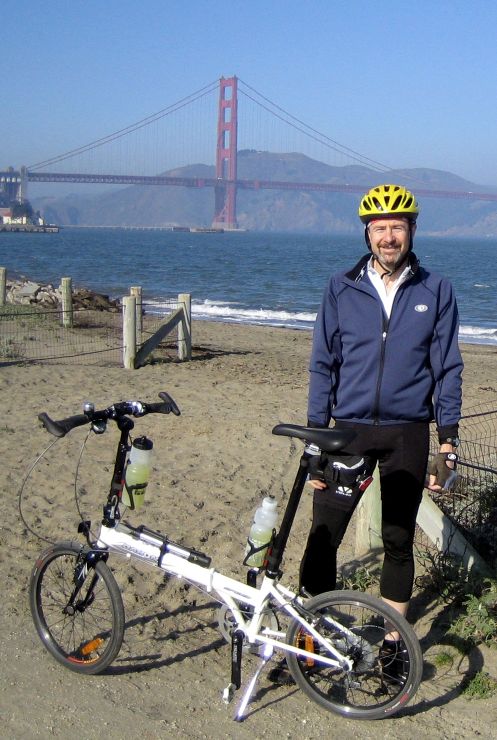 My 2004 Dahon Speed P8 showed me that, if I had a bike with me in my hotel room, I'd take it out and ride it. Not only that, but riding--even on a basic bike--is oodles more fun than that most common of travel pastimes, shopping.

The folks at Dahon deliver a lot of folding-bike for the money. I first learned about folding bikes on the internet, where I read about the Bike Friday in the summer of 2004. I was fascinated, but not willing to shell out the cash for a custom-built Friday. At a mere $350 (2004 model, from an on-line discount shop), the Dahon gave me a chance to try out the folding-bike concept. I bought a suitcase to pack it in and took it with me to Princeton, Savannah and San Francisco (packing instructions are here).

This bike is heavy (31 pounds!), too flexible, and a touch too small for me, but was still fun to ride. I sold it a few months after upgrading to a Bike Friday.



Welcome to the machine


The Sorrento Diamondback. This cheapie (and heavy - it weighs 30+ pounds) mountain bike was on semi-permanent loan from my pal Ann and saw some use as a loaner bike. Called the suicide machine (check the Suicide Machines band decal), my friend Ann gave it to me in May, 2005 (thanks!). I fixed it up by having the old dead suspension fork replaced with a rigid one and by adding folding baskets to the rear rack to make a pretty good townie bike. I learned to grocery-shop by bicycle using this machine (tip: in Summer, pack all the cold items together in one of the baskets). This was my go-to bicycle for getting around Alexandria and for just about any other time I planned to travel (and arrive) in normal clothing instead of "bike clothes." I sold it after upgrading to a Breezer Uptown 8.



Local Bike Links