Canada tour - Day 5 - Davidson to Shawville


This was billed as a 32 mile easy ride, mainly on the unpaved cycloparc. When it was over, Dave, Debi and I managed to run it up to 47 miles. One fun thing about the slow day was that we rode for a while with Suzie, who was our tour guide, and had plenty to say about everything.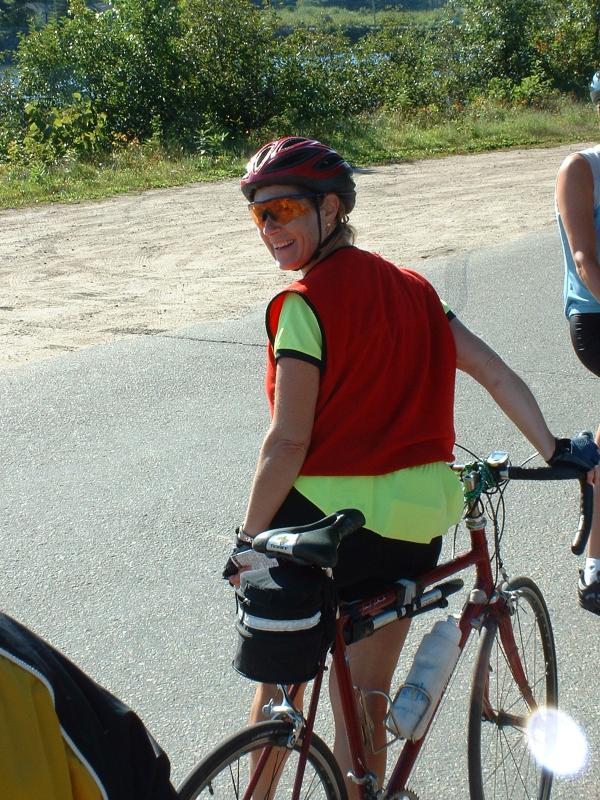 Suzie (photo from Dave's camera)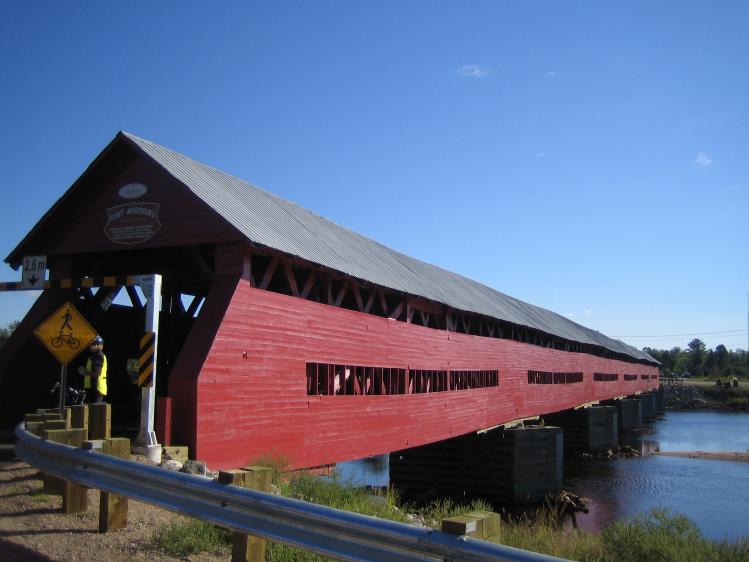 The second-longest covered bridge in Canada.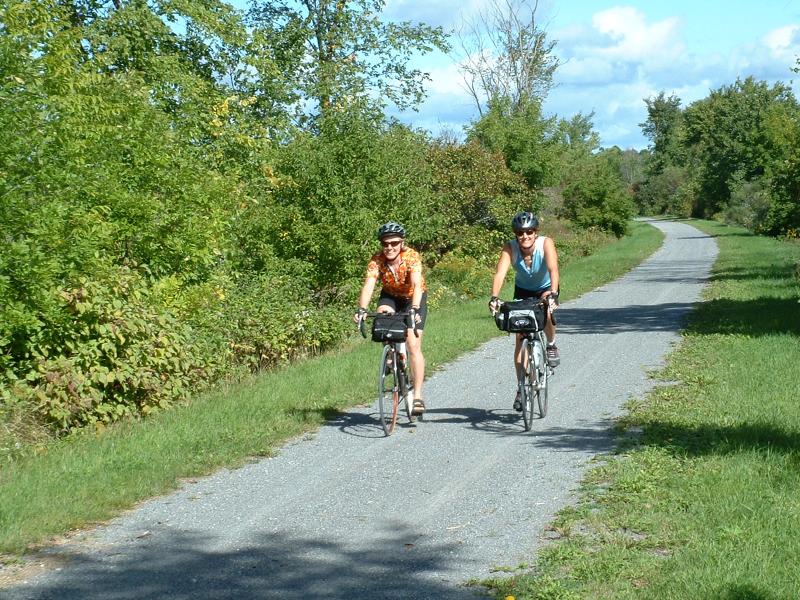 Pat and Debi on the cycloparc (photo from Dave's camera)

Based on the idea that there would be little to do in Shawville, our destination, we decided to take a lot of breaks from riding and therefore kept an eye out for coffee shops or other nice places to hang out in. This idea came up in Campbell's Bay, where we enjoyed an early lunch at Peggy's Restaurant. This took enough time that we thought we'd sew up the DFL position for the day, but lots of other folks were on the same plan.

After catching up with Suzie and the slow crowd, Suzie led us to the Sawville Inn, where Debi, Dave and I would spend the night. There we put our bags in our room and verified that there wasn't much to the Shawville Inn. We then buzzed through Shawville itself (not much there) to lead Pat in to her accomodations in Pine Lodge, 8 miles farther down the road.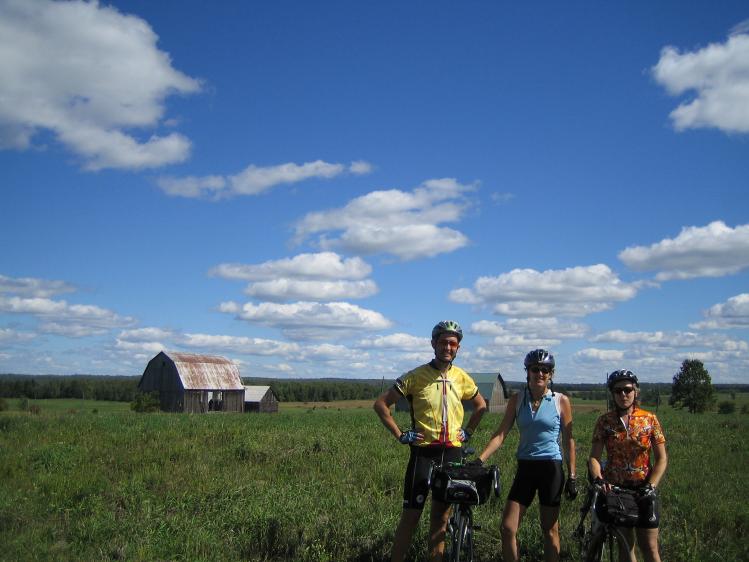 Dave, Debi and Pat, somewhere between Shawville and pine lodge.

Pine Lodge is a quaint old resort hotel, where we had ice cream, walked to the beach, goofed off briefly with the playground equipment, piled nachos and margaritas on top of the ice cream, and played a few hands of hearts (Dave won by shooting the moon on the last hand).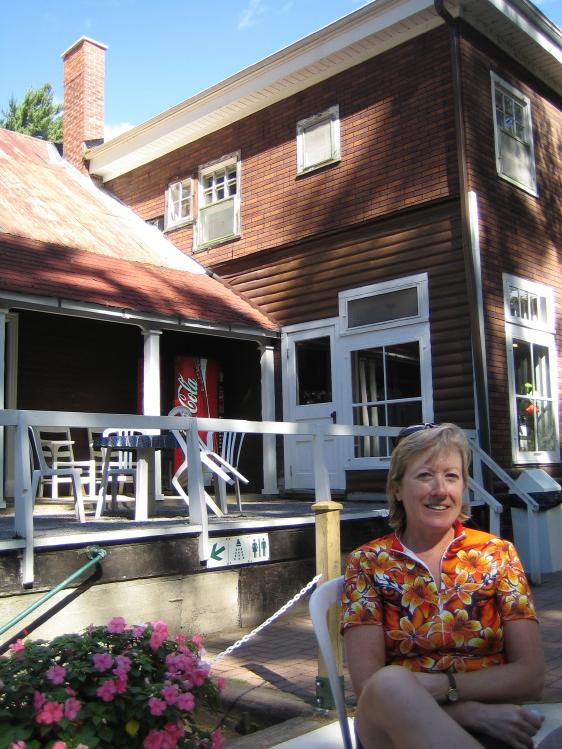 Pat at Pine Lodge.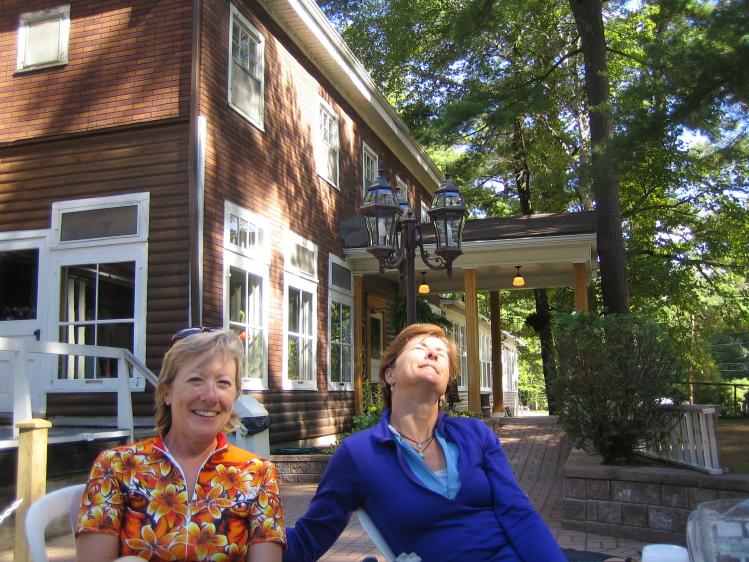 Pat and Debi.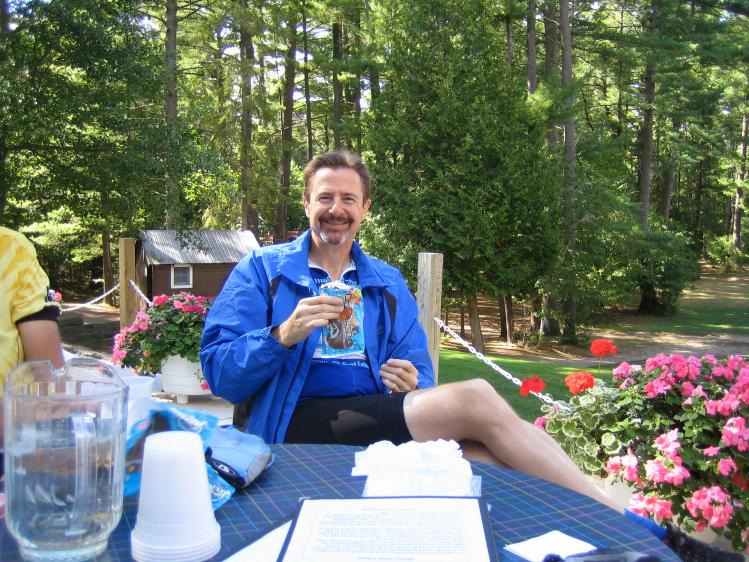 Jonathan with ice cream.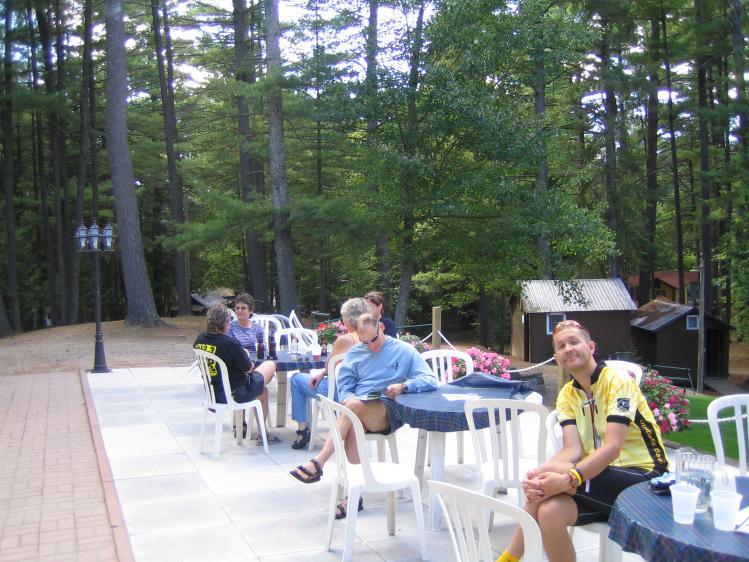 Dave, hanging out.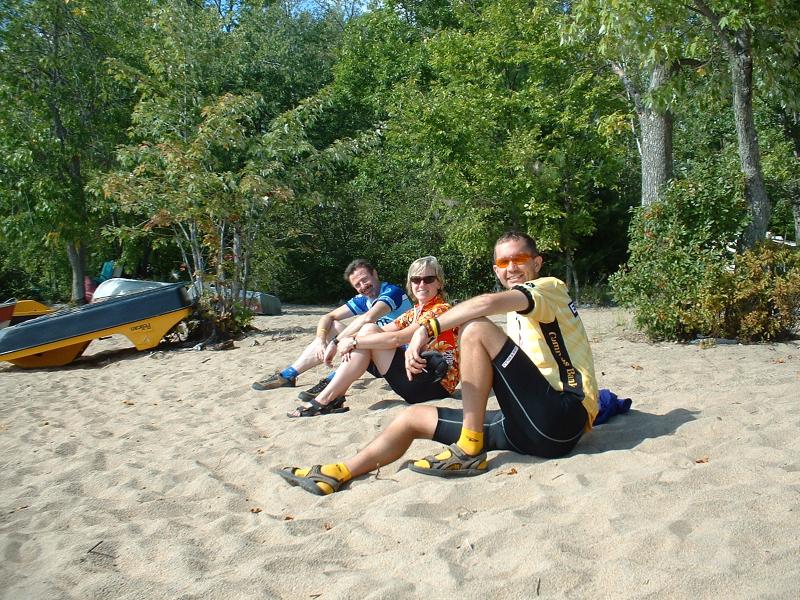 Jonathan, Pat, Dave at the beach (photo from Dave's camera). It was quite the self-indulgent day.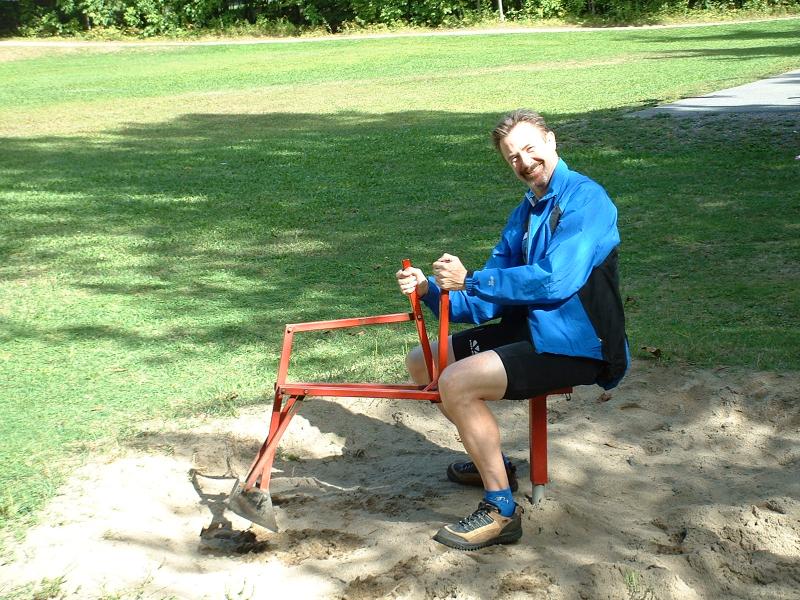 Jonathan digging (photo from Dave's camera).

About 5 pm we figured out that we really needed to get to dinner, and had a nice ride back through some lovely rural scenery bathed in late-afternoon sunlight.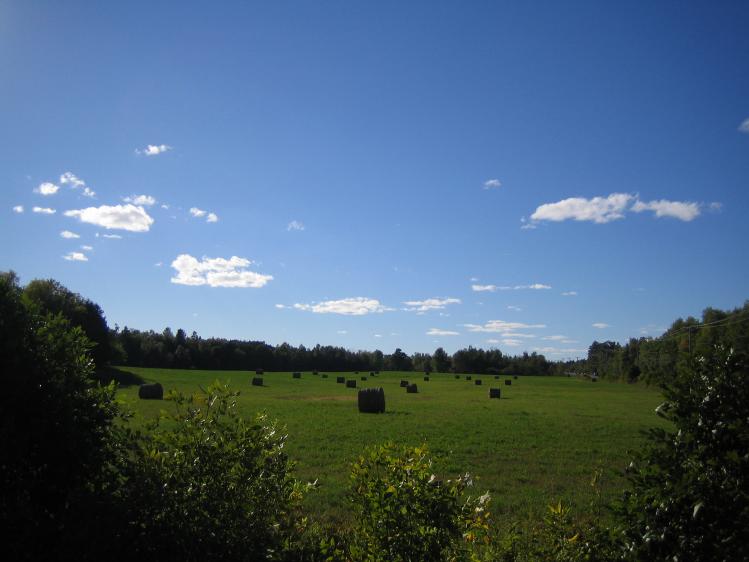 Hay bales.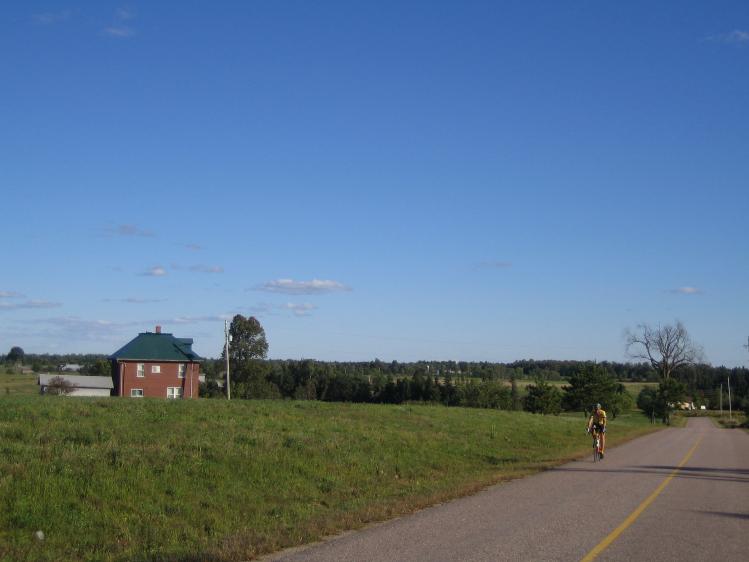 Dave.

We happened upon a gang of cows and decided to take same shots. They seemed to be looking at us, so I thought I'd get a shot of them looking over my odd-looking Bike Friday.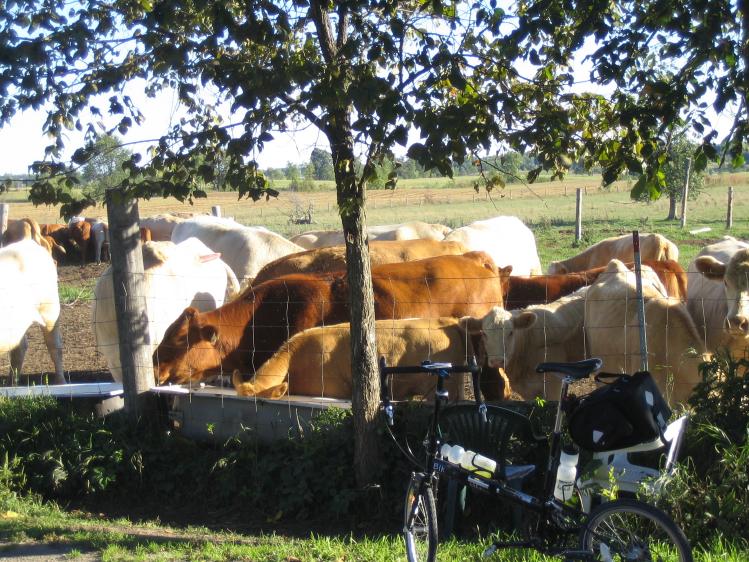 Cows, showing no interest in my bicycle.

Once back at the motel, I found our group wrangling with a salesman. The salesguy was pushing sets of plastic "coasters" that can hold photographs whilst not actually absorbing any liquid. Suzie was encouraging him (I never did find out how he came to be connected to our group). When Dave came out on the balcony, Suzie called to him, suggesting that he might want a set of coasters and Dave took this photo. I can be seen in the center of the frame, waving my hands to warn Dave away.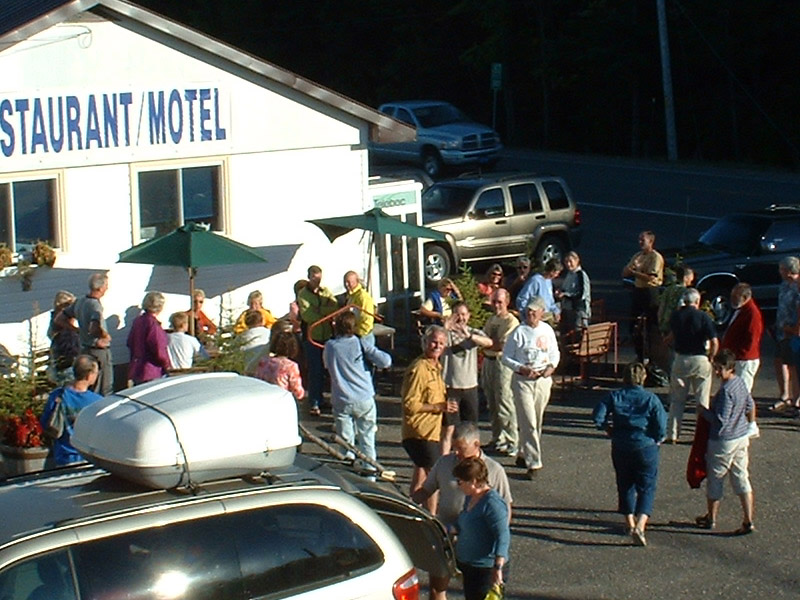 At the Shawville Inn (photo from Dave's camera).

At dinner, our last as a group, there were a number of awards and gag gifts, including one for Debi for showing up with the heaviest luggage.




Back to Jonathan's Page


Canada Tour / Jonathan Krall / revised September 2005