Detroit International Jazz Festival - September 2-5, 2016
For my first visit to the Detroit Jazz Festival, I sprang for the "guardian" package. This got me into "VIP" events and involved a donation. Jazz is, these days, a cause that needs support (Frank Zappa only got away with his wonderful Grand Wazoo big band jazz recording because he pretended his music was rock and roll, no matter how weird it got. Said Zappa, "Jazz is the music of unemployment."). The Detroit Jazz Festival is free, but access to seats nearest the stage are usually restricted. These are some of the highlights.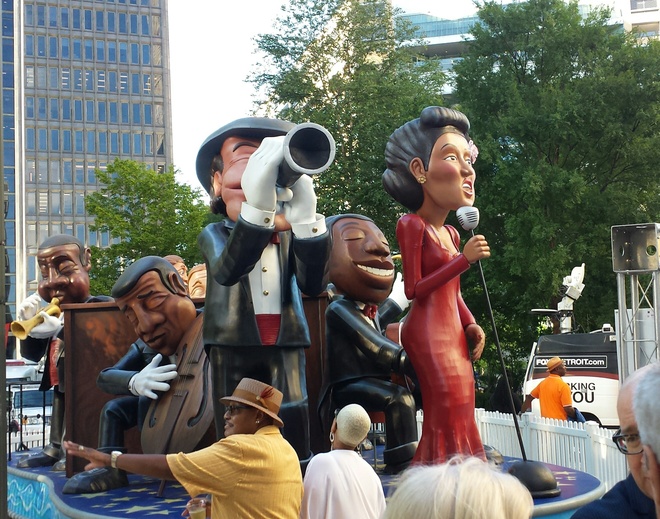 Friday September 2
The proceedings began with an opening party for the VIPs, with enough appetizers and drink to cover dinner. Not knowing anyone I sat by myself. I was soon joined by Randy Weston (of Randy Weston's African Rhythms) and his entourage. He was in from Brooklyn and several fans got selfies with him.

Ron Carter Nonet, Main Stage




On opening night there was only one main venue and it was crowded. Ron Carter and his crew opened the proceedings and were great! He directed and played bass and had another bass player and a drummer to hold down the rhythm. Providing counterpoint was a quartet of cellos, a pianist, and a percussionist. This was one of the high points of the evening. Ron Carter was the "artist in residence" at the festival and was featured in various combos throughout the weekend. Carter has a long history in jazz, having played on many great recording session, including with Miles Davis in the early 1960s.

Soul Rebels, Side Stage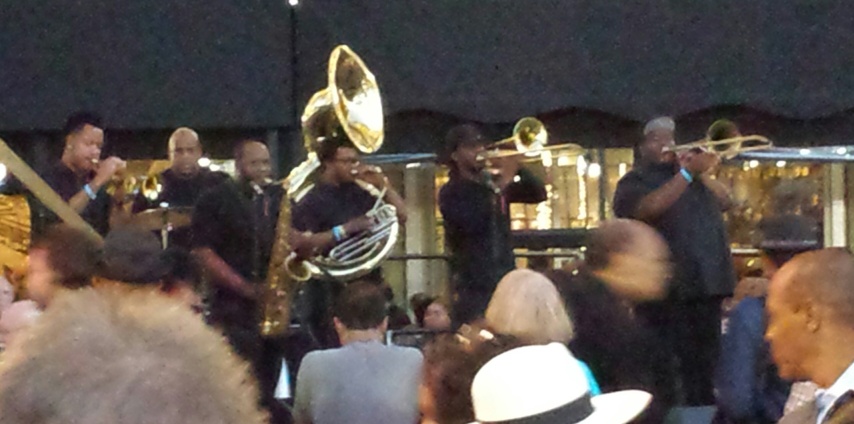 Jazz Funk. They reminded me of street musicians I've heard in DC but with much better chops and better tunes. A couple of times they managed to weave a cohesive melody into the proceedings with all contributing in a sort of big band way. Delightful. Otherwise it was mostly riffing and solos. Jazz funk has possibilities. They played on a side stage while the next act set up on the main stage.

George Benson, Main Stage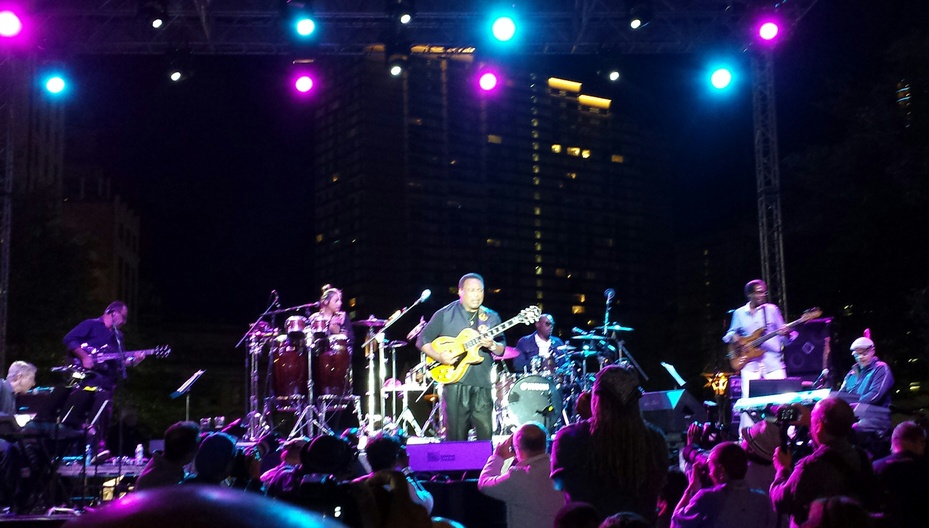 George was the headliner. He opened with a jazz guitar tune, Breezin'. From then on it was pop vocals. I was fading so I took a break in my hotel room and didn't catch his entire set.


Jam Sessions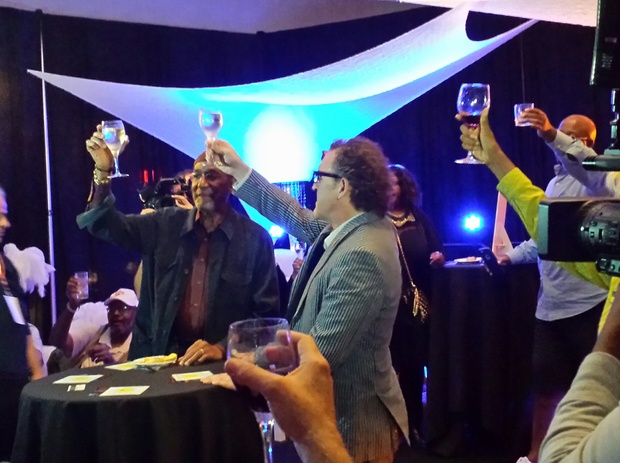 In Friday, Saturday, and Sunday nights there was a jam session in a nearby hotel ballroom. On Friday the VIP area was the site of a small party, where artist-in-residence Ron Carter was toasted by the one of the lead Festival organizers.

Jam session featuring singer Roberta Gambarini, Renaissance Ballroom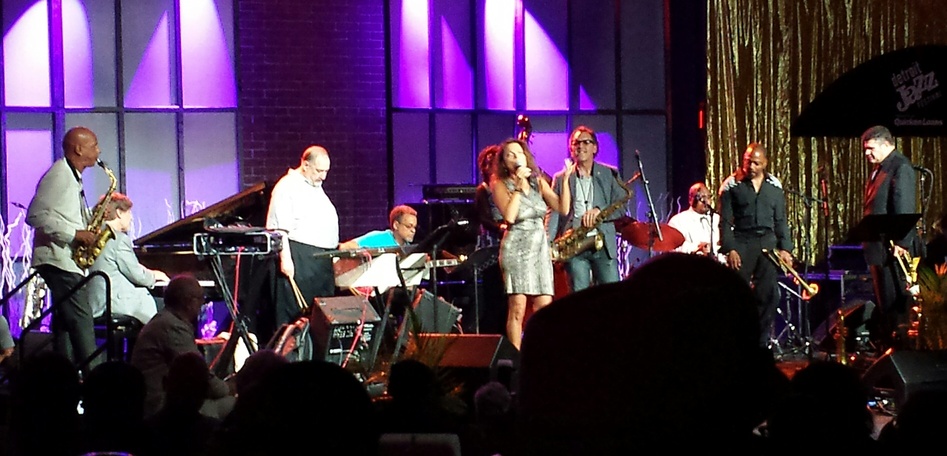 One of the great things about the festival was the people. I talked to a woman from a local TV stations who was hoping to get some video and a brief interview with George Benson. She passed along a rumor that Benson might turn up at the jam session and duet with singer Roberta Gambarini. Benson never turned up, but Gambarini did a lovely version of Masquerade, a hit song for Benson. I assume that was the song for the planned duet.

Before going on Roberta and a friend were clowning around in the VIP area, taking selfies. She was great. At singing, I mean. I don't know the name of the trumpeter off to the right of the photo in black with white shoulders, but he blew a solo with a series of great bent notes. I never did get his name or notice him again.


Detroit Jazz Festival
The Detroit Jazz Festival uses four stages most of the time, so there are usually four choices of music (opening night was an exception). Three of the stages are near each other and the 4th was a 5 minute walk from the other three, so it was easy to bounce between venues and hear lots of music.

One of the best things about being a "gaurdian" VIP was the dinner service. After working out a schedule of musicians to see, I realized that I hadn't left a gap in my schedule for dinner. The dinner service was easy enough that I could squeeze dinner in between shows. If you shell out for plane fare and lodging to attend the festival, the VIP package makes a lot of sense.


Saturday September 3
I began my day searching for breakfast in downtown Detroit (a mistake, I should have headed to Eastern Market, but the opening of the Festival had me distracted; I got over to Eastern Market the next morning). I got food at a lunch spot that had opened early.

Downbeat "blindfold test" with John Abercrombie, Water Front Stage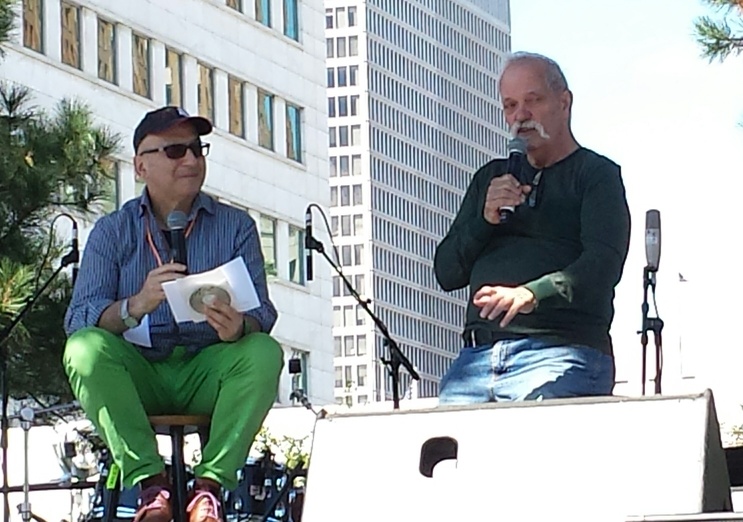 Guitarist John Abercrombie was interviewed and put on the spot in a "blindfold test." They listened to jazz tracks that John tried to identify. John talked about the music, the style of playing and the players. He was pretty opinionated, but dialed that back some as soon as he caught on that many of the featured musicians were also playing at the festival. Amusingly, he failed to pick out his own sidemen on recordings where they were playing support for others. He was a good sport to be put on the spot like that. I have it on good authority that "Players bomb those things all the time." It was a fun way to warm up the ears for the day's music.

Barbara Ware Quartet, Pyramid Stage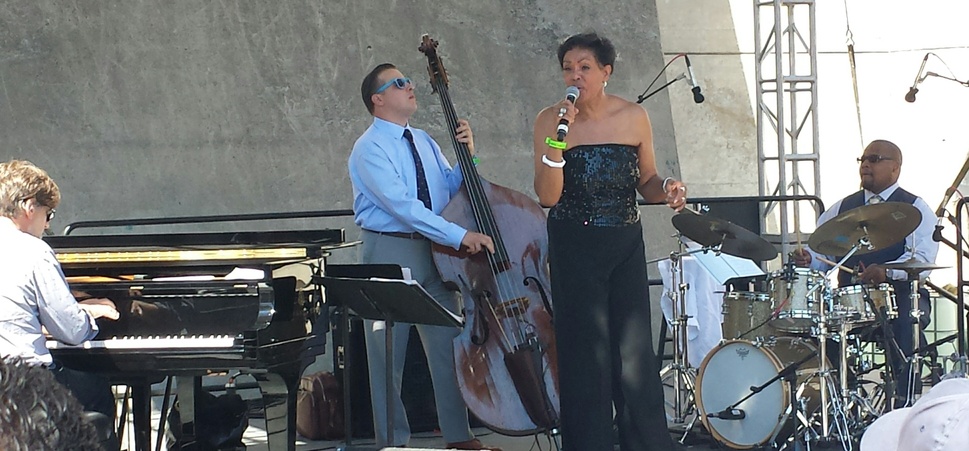 Ware is a strong mostly-traditional jazz singer balanced by a muscular jazz trio. She gave her band a lot of room to play and brought the house down with Since I Fell For You. I enjoyed hearing her sing Do Nothing 'Til You Hear From Me, a well known big-band song with a funny lyric. I'm familiar with the tune, but don't think I had noticed the lyric before. The gist is that the singer is telling her partner to disbelieve rumors of infidelity unless confirmed by the singer and, bye the bye, the singer is keeping her mouth shut.

Trisonique, Pyramid Stage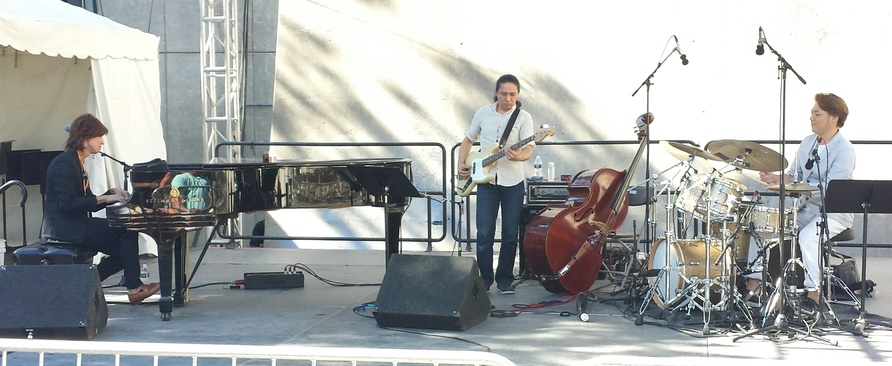 Trisonique is both the name of the trio, led by pianist Hakuei Kim, and the name of Kim's 2011 album. The one album by Trisoniqe came out in 2013 and is called Borderless Hour. I quite enjoyed this. Often their playing was less blues based and more rock based, like some of the improvisational parts of ELP concert recordings (one tune reminded me of the instrumental Sparks by The Who). They often locked into a mode where two players would duet intensely while the third more or less kept rhythm. At times the playing seemed very syncopated. The drummer was a strong voice and was often out in front (one great thing about The Who's Live at Leeds recording is that Kieth Moon is constantly playing what I call "lead drums"; his playing reminded me of that).

This was their first concert in the USA. It was also the first band I heard that made me want to buy their CD. I later asked them where I could find their music and they said "iTunes."

Luciana Souza: "Speaking in Tongues", featuring Lionel Louke, Gregoire Maret, Massimo Biolcati and Kendrick Scott, Amphitheater Stage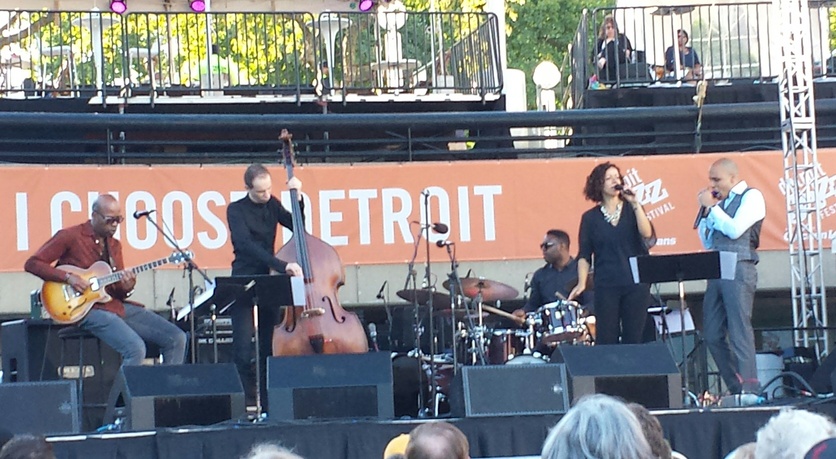 Brazilian singer, African guitarist, European bass and harmonica, Texas drummer. Brazilian jazz with world music elements. One song described all of us as children of Gandhi, needing to be lead to a safer place. They did songs from her Speaking in Tongues project, but with different arrangements. World jazz with poetry. Worth looking into.

John Abercrombie Organ Trio, Water Front Stage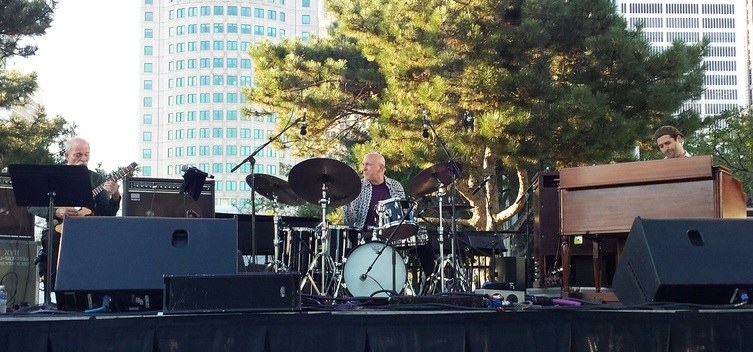 Guitar/organ trio. They seemed a little off-balance to me. The drummer was more "on" than the other two.

Papo Vazquez Mighty Pirates Troubadours, Main Stage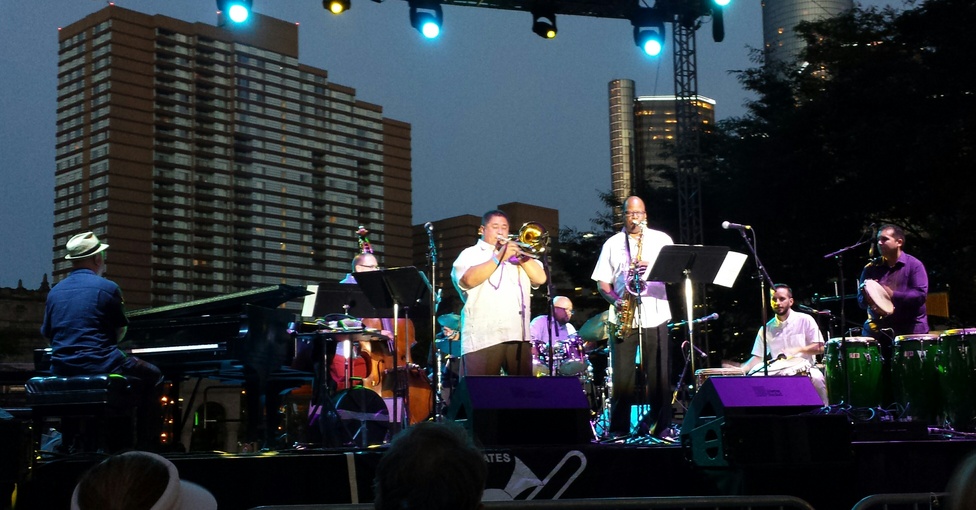 Afro-Caribbean bebop and big band music. I quite enjoyed it. Papo Vazquez, playing trombone, was in constant motion, blowing, playing percussion, exhorting more energy from the players, and generally directing traffic.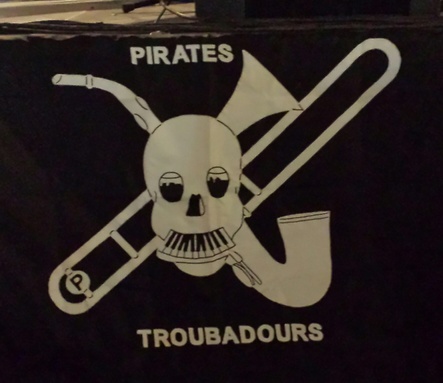 Music for people for people who can't stand still from a man who has exactly that problem.

Chris Potter Underground Quintet, Renaissance Ballroom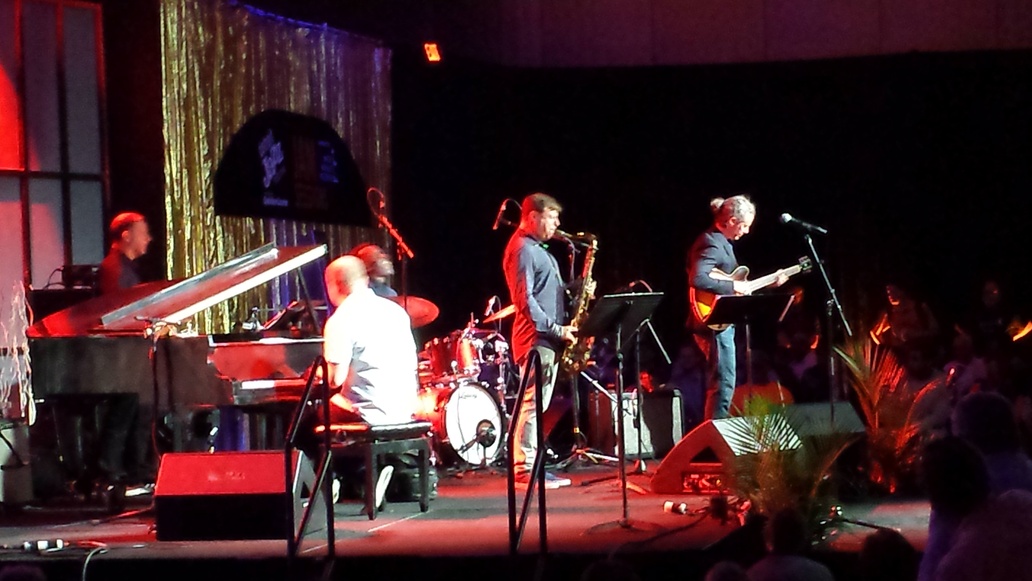 I wasn't able to squeeze the Chris Potter Underground Orchestra into my schedule so I settled for the quintet. They didn't strike me as being as experimental as I had hoped, based on the name. In any case I was sleepy and didn't take notes. However, I did meet a charming older black couple who, after becoming empty-nesters, had moved back into downtown Detroit. "We're hipsters!" she said. We talked about bicycling in Detroit and they reminded me to visit the Dequidre Cut bike path and Eastern Market. Feeling more motivated by a morning bike ride than by late night jazz, I headed to my hotel to get some sleep.


Sunday September 4
Daniel Meinecke Big Band, Amphitheater Stage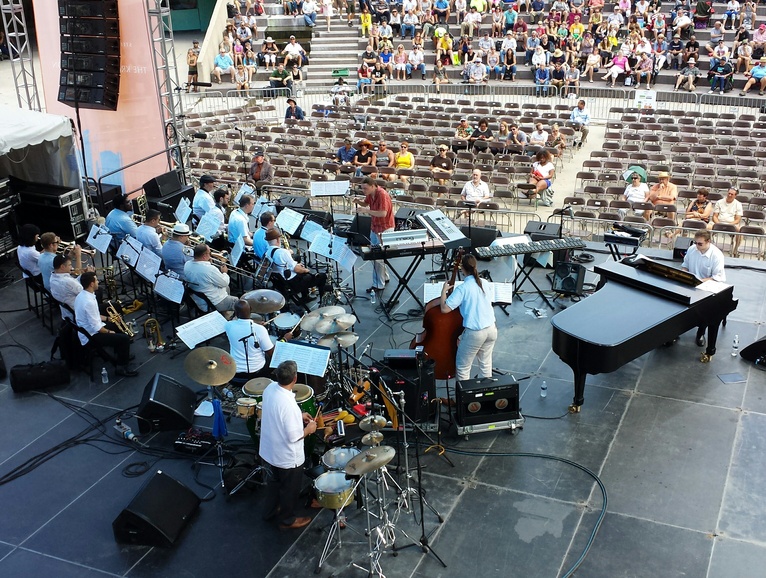 Musicians and students playing original big band music. The empty seats are the melt-in-the-sun VIP section. There were shaded spots from which to see the proceedings, including my vantage point up behind the stage.

Kirk Lightsey & Louis Hayes Trio with Robert Hurst, Amphitheater Stage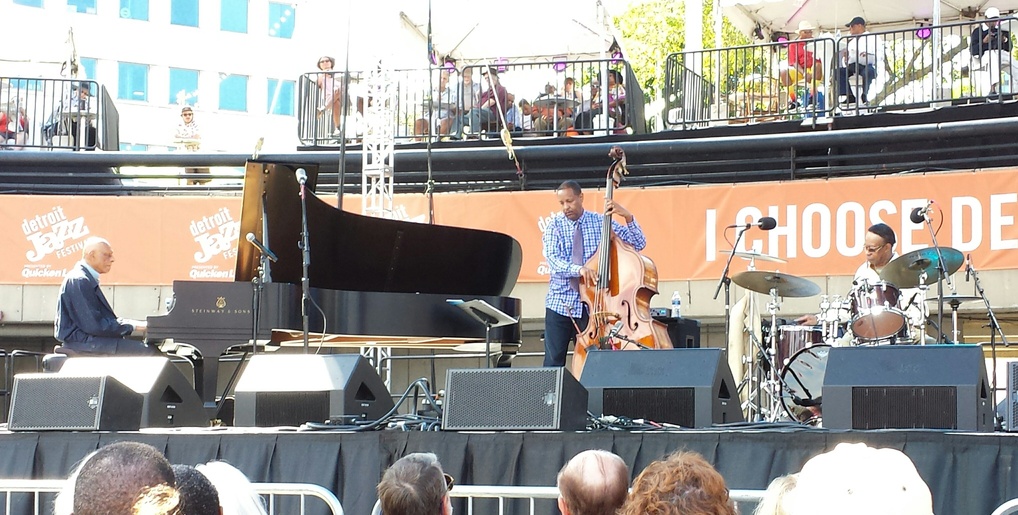 Jazz. Lightsey is a famous pianist.

PUBLIQuartet, Pyramid Stage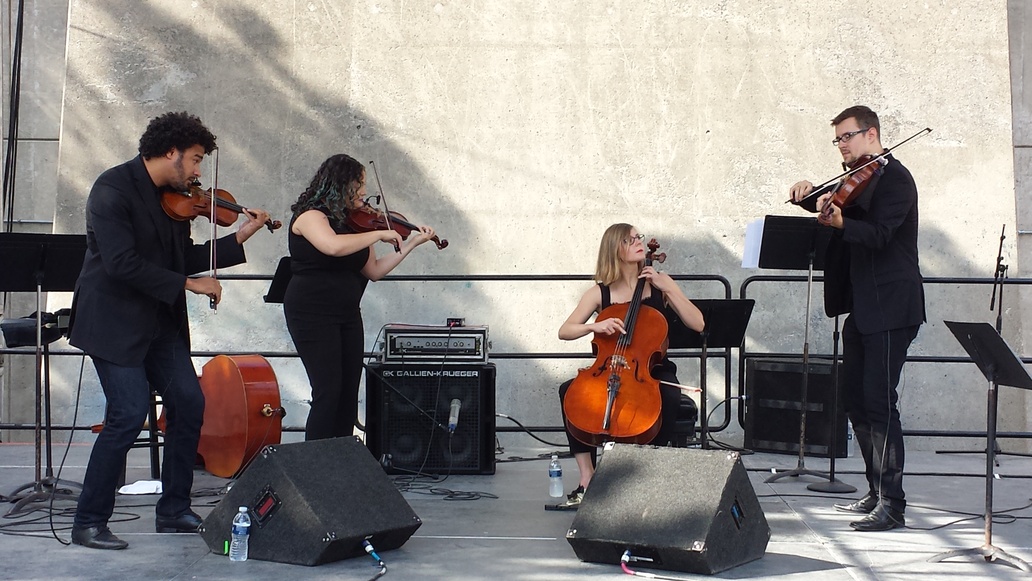 PUBLIQuartet is a string quartet that plays any style of music that catches their fancy. Their music as a quartet was largely arranged and very interesting. They started in a near-classical mode and got jazzier as they went. Some tunes were arrangements combining classical and jazz compositions. The improvisations were not at all obvious.




They were joined by guests musicians in various combinations. When playing with guests there were more instances of individual soloing. Assuming I got the story straight, the guitarist on the far right is the father of the woman playing violin on the far left. Worth seeing, if they come to your town.

Cyrille Aimee, Main Stage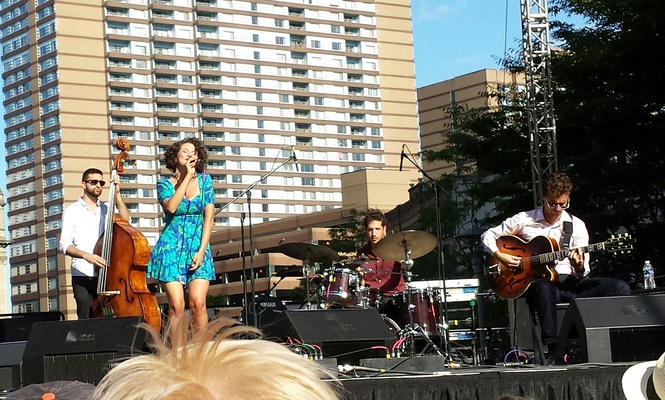 French singer based in Brooklyn. Melodic, beautiful, entertaining. She did a great version of Thelonius Monk's Well You Needn't (a great song with a funny lyric). Aimee sings standards and originals in French and English. She introduced most of her band as being from "[European city] via Brooklyn." There must be some great jazz going on in Brooklyn.

She introduced the title track from her latest CD, "Let's get lost" and proceeded to sing such an engaging song that I thought it should be called "Let's sell some CDs." It's a song about new love and off-putting public displays of affection. My favorite line was "let's get crossed off everybody's list." Since getting back home, I've been quite enjoying both of her CDs. CDs from her Detroit-based record company, Mack Avenue Records, were selling for $15 each or 2 for $20 so I have both. She was kind enough to sign both of them for me (The line to meet Cyrille Aimee was so long that I had time to get a drink before coming back, shopping for CDs, and jumping into the end of the line. I was having fun.)

The RH Factor, Main Stage




RH is Roy Hargrove, trumpet. Jazz Funk. Great musicians playing over a funk groove. At times just playing funk. Or jazz. They threw in some Funkadelic to liven things up.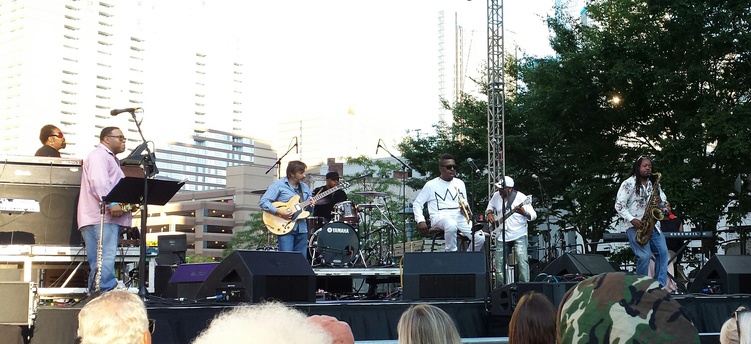 Here's a shot where you can see Roy Hargrove, center. His band seemed to me like a showcase for a lot of young talent. Give up the funk!

Vanguard Jazz Orchestra, Main Stage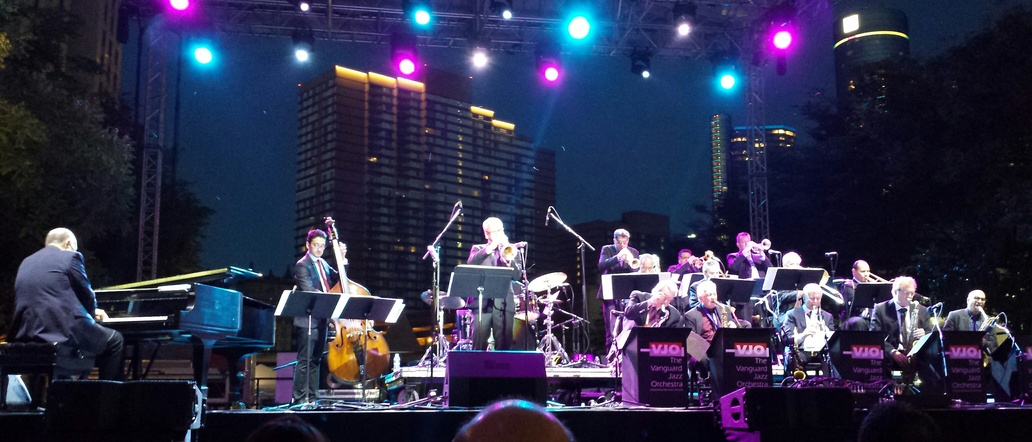 This band was founded by Thad Jones back in the 1960s (or maybe 70s). 16 men swinging. That's a Basie reference, but I guess it's OK since Jones used to play for Basie. Most of the tunes they played were old Thad Jones arrangements. To my ears, the solos were blusier than the horn arrangements. My father used to play trumpet in a local big band in this style.

Freddy Cole with Detroit Jazz Festival String Orchestra, Amphitheater Stage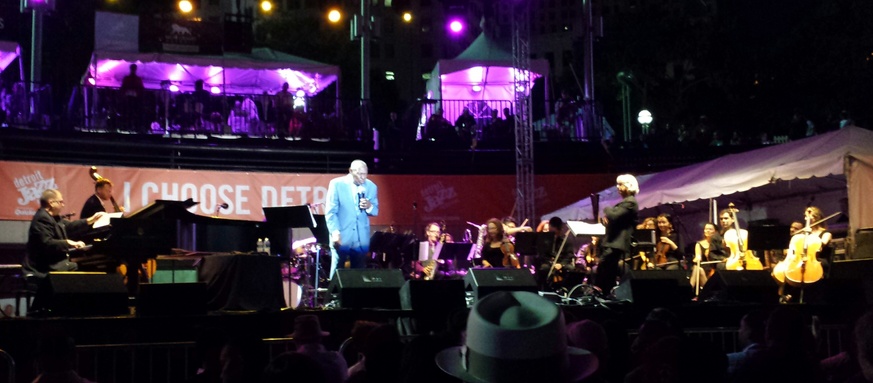 Freddy Cole sang and played several standards, some associated with his brother, the late Nat King Cole. It was lovely and entertaining with another of those funny jazz songs thrown in to keep the crowd happy (I didn't catch the title).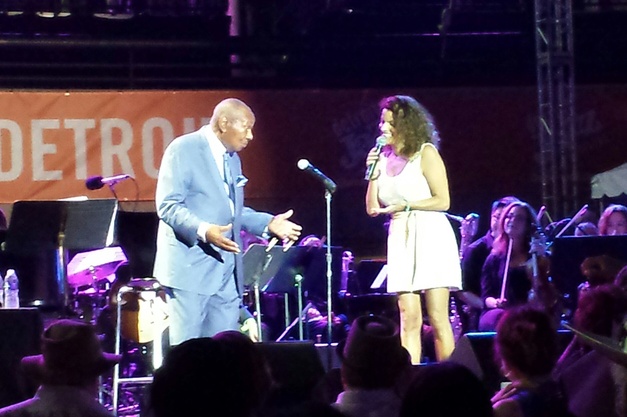 Because it was the night of his 85th birthday, Roberta Gambarini came out and sang Happy Birthday to him. At least that was the story. Wikipedia says his birthday is in October, but who are you going to believe? By the way, I didn't manage to catch Roberta's show with saxophonist and bandleader Jimmy Heath, so I was glad to hear more from her.

Jam Session with the Harold Nussa-Lopez Trio, Renaissance Ballroom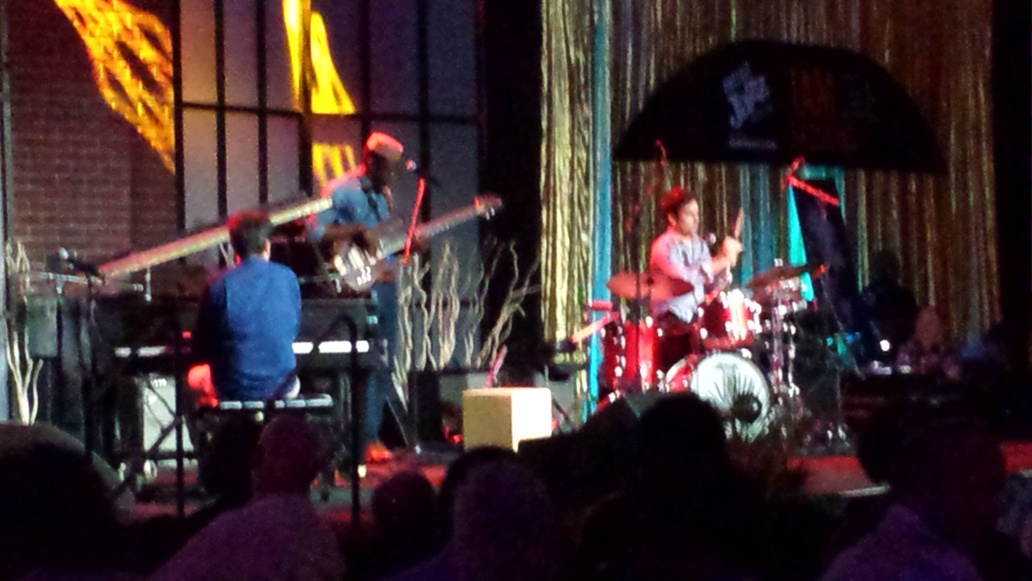 Sorry for the fuzzy picture. The late night VIP section was pretty far from the stage. The Nussa-Lopez Trio opened the jam session and wer another highlight. I only caught part of the jam session before fading off to bed. More on this trio tomorrow.


Monday September 5
Harold Nussa-Lopez Trio, Amphitheater Stage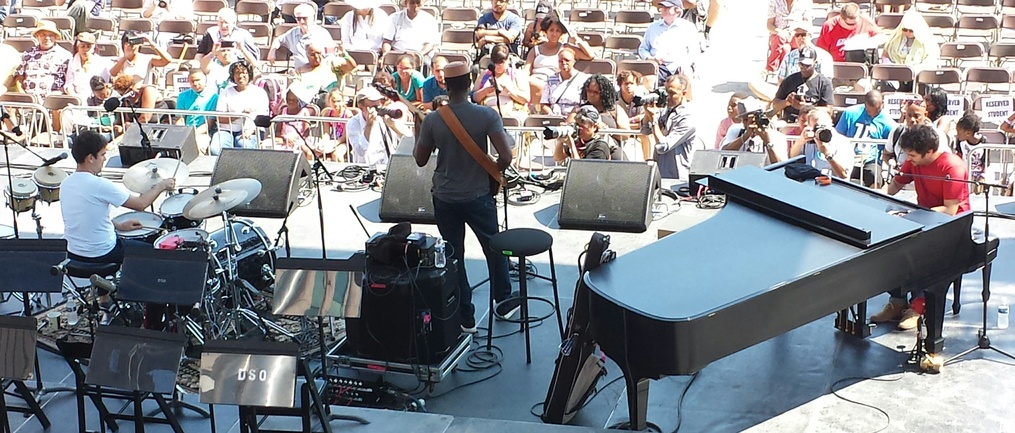 Rockin' Cuban jazz trio with world-music influences and African songs (sung by the bass player). The improvs seemed more rock based than blues based. A little like Phish without the electric guitar, if you can imagine such a thing. I listened to most of their set from up behind the stage, safely out of the sun.




The bass player sang African pop ballads that were distinct from the piano-driven instrumentals, but it all fit together nicely. Their CD, "El Viaje," turned out to be very similar to their show, so I've been enjoying it. They will be playing at the Kennedy center in October.

Terri Lyne Carrington's Mosaic Project, Amphitheater Stage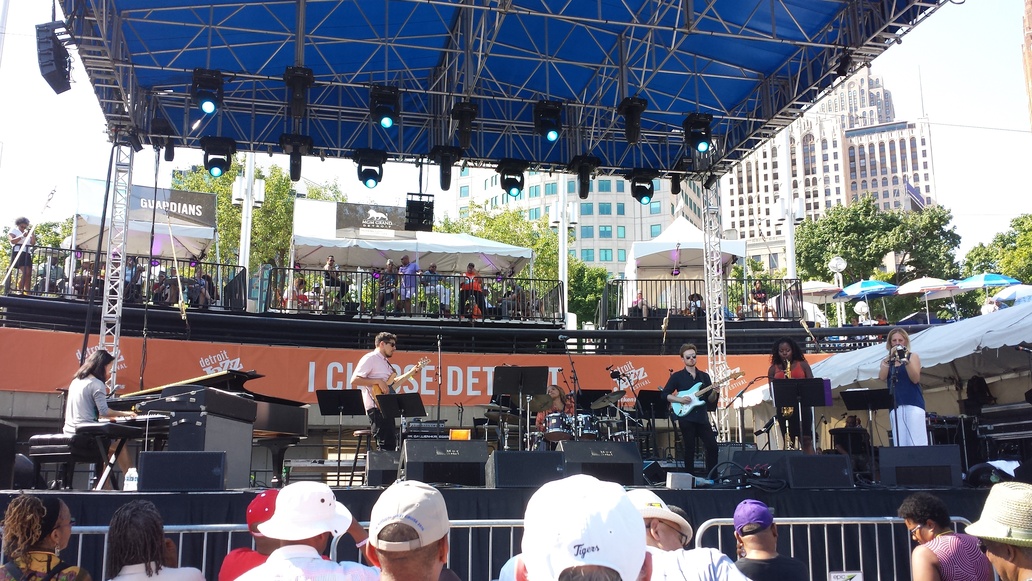 Big band music led from the drum chair by Carrington. Lots of different styles (a "mosaic"). More going in than I was able to take in while baking in the amphitheater/frying pan. Her project (and her band) is a showcase for a lot of talented women. Nothing wildy experimental, but worth checking into. If she ever does something big and wild, she should call it "The Carrington Event." That's a solar physics joke (Don't forget to tip your waiter; I'll be here all week).

Scofield Mehldau Guiliana, Main Stage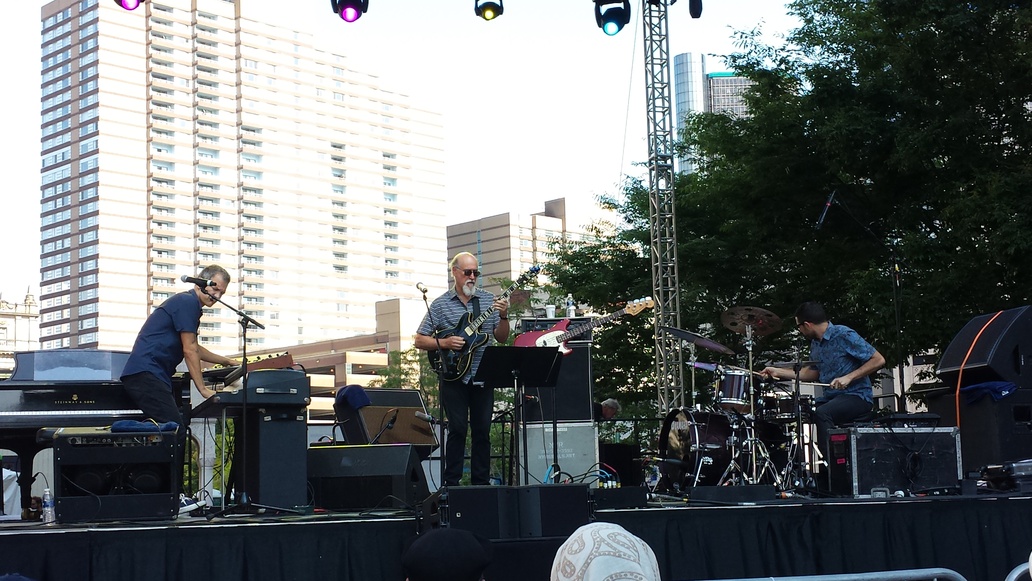 Great guitar-led jazz trio. Bluesy jazz-rock fusion. Nice.

Jason Moran and the Bandwagon, Water Front Stage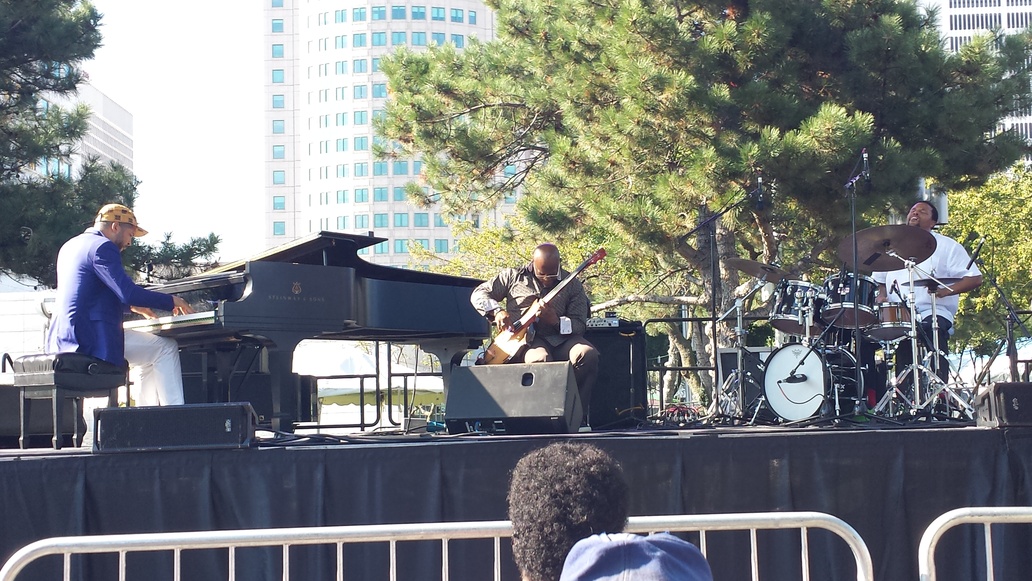 Jazz trio. Intense and hard for my somewhat uneducated ears to follow. Led by Jason Moran, piano, they were doing jazz standards, like Body and Soul, but taking them apart and putting them back together different. Worth further investigation. Jason Moran will be featured in the 2017 Kennedy Center season, playing in January and February.

Ron Carter Great Big Band, Amphitheater Stage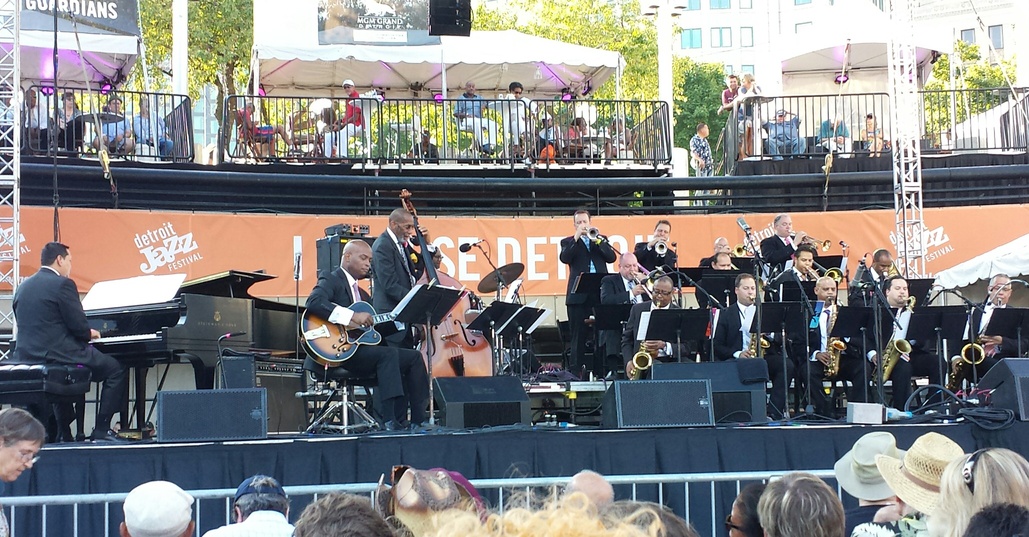 Ron Carter closed out the proceedings. I enjoyed it but forgot to take notes. Just before he finished, I had to take off to catch a plane.


And that was my first Detroit Jazz Festival! Very fun. If you want copies of any of the photos (these are smaller for easy viewing), write to me. Also write if I misspelled your name or if you have other concerns. All comments are appreciated. Thanks for reading.



Back to Jonathan's Page. Comments, if any, to jonathan@jonathankrall.net.


My Detroit Jazz Festival / Jonathan Krall / revised September 2016