SXSW Music Festival - March 16-19, 2011
In March, 2011, I attended the 25th anniversary of the SXSW (south by southwest) music festival. The SXSW silver anniversary was celebrated in grand style by printing "25" on all of their promotional materials. I was going through some stuff in my personal life and needed a change of scenery. I flew into Austin with a suitcase, a bicycle, a paid registration, and a plan. I landed at 8pm. By 11 I had assembled the bike, covered the 6-mile ride downtown in only 8 miles, picked up my badge, gotten some food and a beer, and was sitting in St David's Bethel Hall, waiting for some music to happen...


Wednesday 3/16
Nive Nielsen, 11 pm, St David's Bethel Hall

I didn't decide to try to get photos of the bands I liked until the second show I saw, but Nive was delightful and had all this fun instrumentation going on. That oil-can guitar was very cool. The harp was cool too. She is an Inuit from Greenland (People live in Greenland! Who knew? OK, they did) but writes pretty folk songs that sound like they could be from the southwest US. I enjoyed her music.

Kitten, Midnight, The Marq

Based on my pre-event research, I was looking forward to this show and it didn't disappoint. The music was fun and their frontwoman, a 16 year old rock veteran (seriously!), was a ball of energy, passion, and great singing. She was jumping, dancing, pounding a tambourine a against her chest, climbing on the amps and generally indicating a passion to make it in the music biz. Their quieter songs remind me of the Motels (a early-1980s band), only quicker. The noisier songs are fun too. I later checked them out online and plan to buy their EP.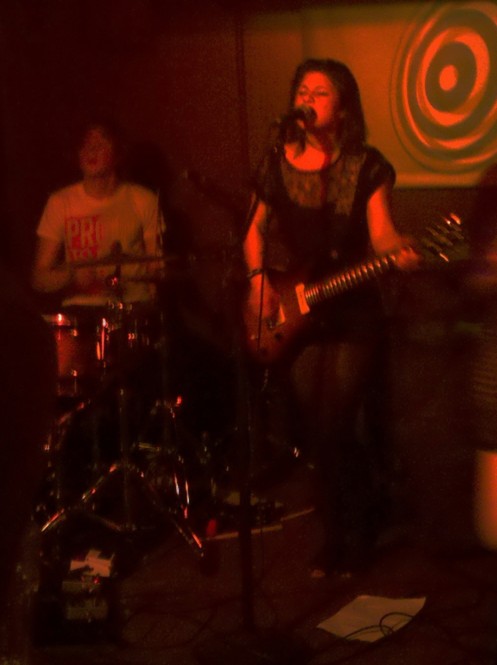 The photo was taken with my smartphone/stupidcamera. I made a note to bring a real camera along tomorrow. Not that the photography improved much.

Yuck, 1 am, Club DeVille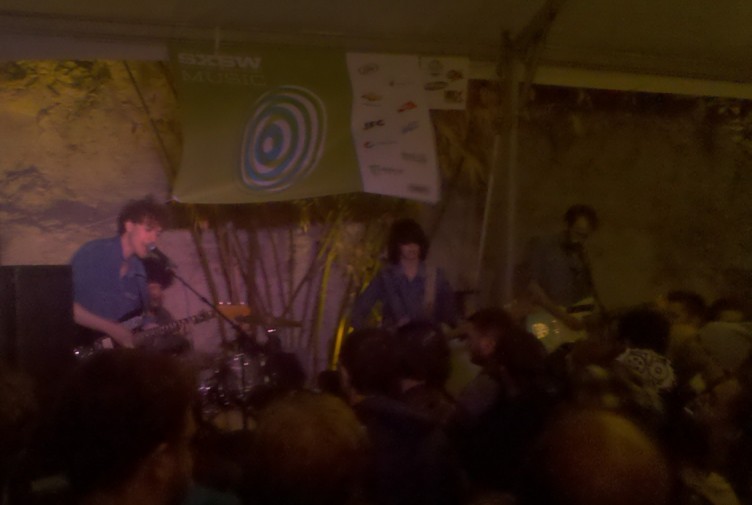 Rock. I enjoyed their set, took a picture, and plan to check them out further. By this time I was pretty tired but was happy to have enjoyed all three bands I saw that night.


Southby...
Newbies call it "South by Southwest." Veterans call it "Southby." It's huge. 60+ bands playing in an equal number of venues every hour from 8 pm to past 2 am every night for four nights ("showcases"), with similar numbers of bands and shorter sets during the day ("parties"). And workshops, exhibits, trade shows... The well-organized on-line schedule make it easy for me to click on the bands playing at any given hour, with links to their websites. The "my schedule" feature kept track of my selections and linked to an app on my Android smartphone. I generally did well at picking bands and had fun, but would have done better had I given it more time. In particular, my Saturday schedule suffered from too-rapid last-minute clicking and (bad) decision-making.

The venues were great and everyone kept to the schedule. The only time I missed a band was when I was ten-minutes late to see a guy who, for some reason, played less than 10 minutes. The sound man was confused about this also. It helped that I sprang for a badge, which got me into almost everything music-related. When not listening to music, I spent my time racing around Austin on my bicycle, armed with a list of bands, dates, times and venues, often not remembering what any given band was supposed to sound like or why I selected them. I had a great time.

One thing that I was surprised by was the lack of merchandising. SXSW is all about promotion, so most of the CDs I saw were there to be given away. People come from all over the world to play at Southby. Artists, internet entrepreneurs and record company weasels all come looking to hook up with each other. In one of the workshops I visited (between sets), a panel on digital music rights, the moderator expressed confidence that his panel of speakers had all the bases covered: artists, internet, publishing. When someone from the Electronic Frontier Foundation[1] said "What about the fans? We represent music fans," the moderator seemed genuinely confused.

[1] Google them--they are working to protect your right to access this web page.
Thursday, 3/17 I
I felt good but was slow getting going, so didn't get downtown until after noon. It didn't help that the hotel's internet connection was perpetually overloaded by the guests, so 2 am was the only time I could reliably get online. Admittedly the SXSW crowd is probably more internet-dependent than the usual, but I do wish hoteliers would provide internet connectivity as reliability as TV sets. I had a nice ride downtown (much easier now that I knew the route) and found some questionable food to eat before taking in shows.

The Head and the Heart, 2:20 pm, Radio Stage, Austin Convention Center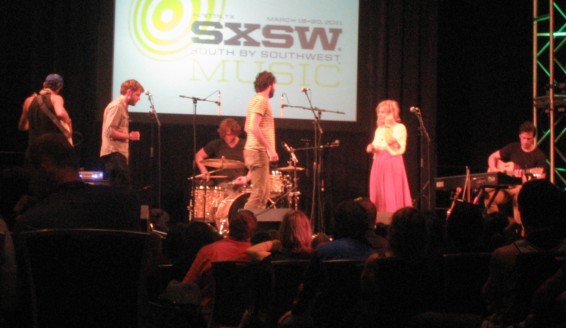 These guy played some nice roots-sounding music. I plan to look into them further to see how I like their songs.

DeVotchKa, 3 pm, Radio Stage, Austin Convention Center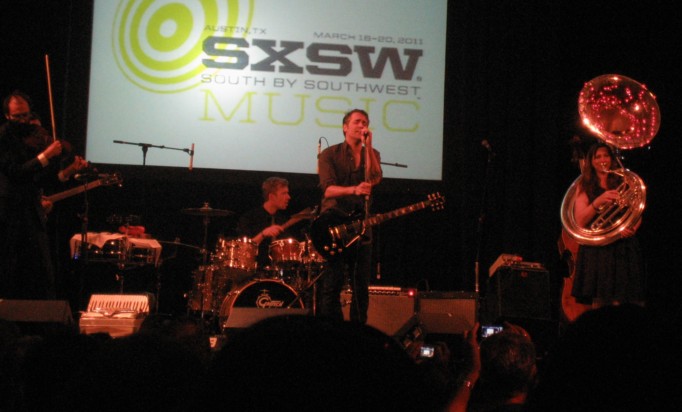 Quite good! They sound like some sort of South/North American folk/rock melange. At some point a woman in the band put on a Sousaphone (a large tuba), which caught the interest of the audience. When the frontman indicated a different song and the Sousaphone was set aside, the audience was visibly disappointed. One thing they did that I really liked was blast out electric guitar chords in places where I imagined another band would have busted out with a horn section. I much prefer guitar noise (this is why I like Funkadelic, but not Parliament). They closed with the Sousaphone song, much to the delight of the crowd, even though the Sousaphone was mainly used to fill out the low end of their sound, like a bass guitar. I plan to pick up one their CDs.

Ben Solee, 5:10 pm, Stubb's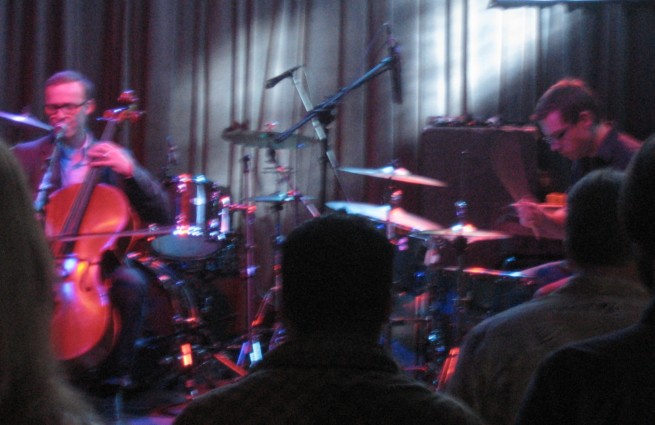 Good old-fashioned roots cello and drums music. Ben has a great voice and the cello-playing was more rockin' than one might expect. I enjoyed his set and plan to check into him further.

Travel by bicycle
I have a Bike Friday light touring bike. It fits in a suitcase. I take it everywhere. The first ride in a new location is almost always an adventure. Usually there are no bike lanes or bike paths going where I'm headed, so I ride in the street, which may or may not be well-designed for bicycles. Fortunately, most of my route was easy biking, once I figure out the route. This time my first ride was in the dark and I had a mission to complete: get downtown and hear some music. My route worked out well until a bike path that was shown on the Google map turned out to be missing entirely. The bike path, in Roy G Guerrero Park, was being reconstructed; no detour was provided (motorists always get a signed detour--further evidence that cyclists are second class citizens).

Plan B involved crossing one of the very busy Highway-111/US-183 bridges, where no crossing was indicated on the Google map. I got lucky and spotted the sidewalk on the westernmost bridge. Yay! I'm zipping across the river! Austin here I come! Rock and roll awaits! Aaaack! At the end of the bridge, the sidwalk ended abruptly. I squeezed my rear brake so hard that it jammed in the closed position, but I stopped in time and managed to stay upright.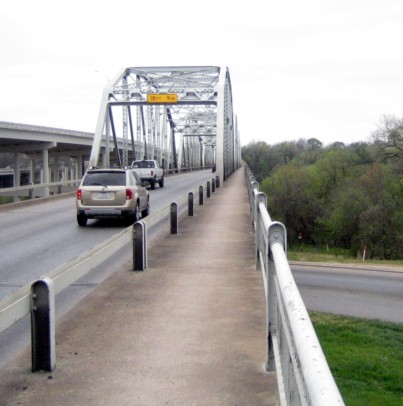 The bridge with sidewalk. The bridge is clearly older than the parallel bridge span and apparently dates back to a time when traffic engineers still built sidewalks next to highways. Yay for old stuff!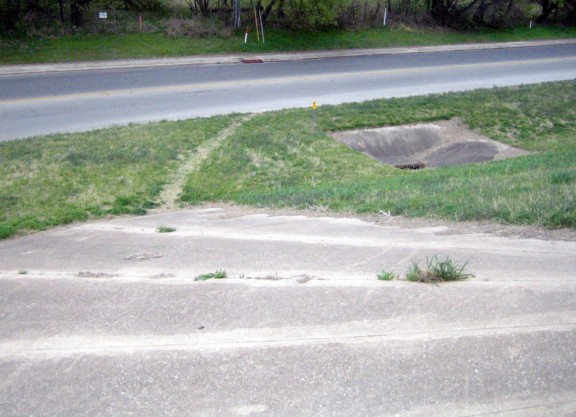 From the end of the sidewalk I spotted a "desire path," worn into the landscape at the bottom of a concrete embankment. I walked my bike down the embankment, along the path to Levander Loop, and was on my way again. I took these pictures the next day, after catching a nap at my hotel.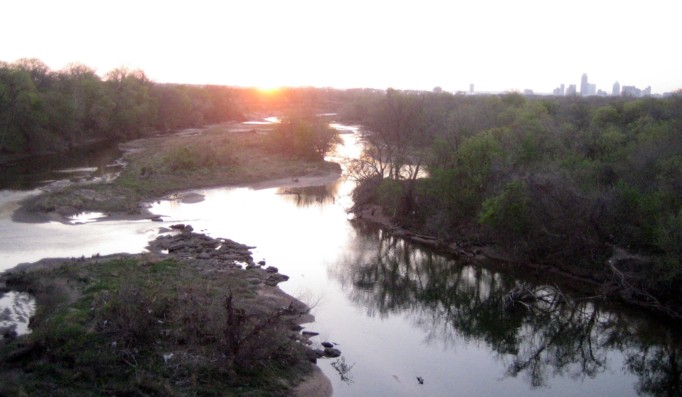 It's only the river.


Thursday, 3/17 II
Honeymoon Thrillers, 8 pm, Maggie Mae's Gibson Room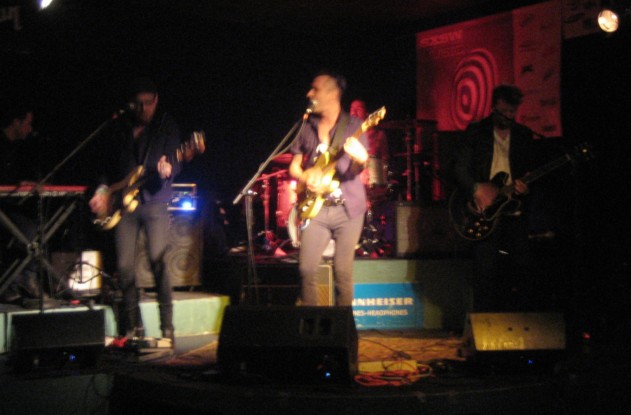 A rockabilly outfit. I liked their set.

The O's, 9 pm, Stephen F's Bar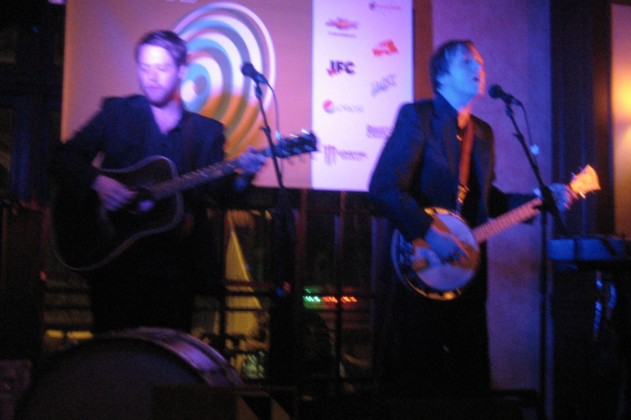 A straight-ahead uptempo folk duo, playing in a hotel bar. Like the band I saw in the same venue at 11 pm, they were impressed to be playing in such a nice setting. "The bathrooms are... clean!" I liked their music but could understand the words well enough to tell that their songs were too straightforward for me. Worth looking into if you aren't me.

Seriously, my idea of a great songwriter is Robyn Hitchcock. Robyn thinks that Bob Dylan's Visions of Johanna, with its cinematic descriptions of mood, multiple points of view, jumbled ideas, stark emotions, and tricky internal rhymes, is some sort of Rosetta Stone placed here on Earth to teach us how to write songs. My taste in music is not to be trusted.

Le Butcherettes, 10 pm, Flamingo Cantina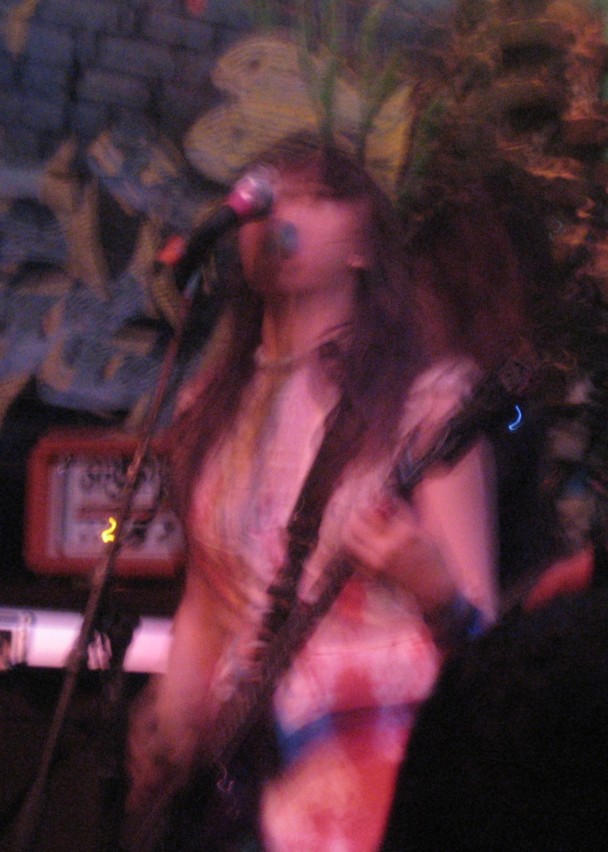 Great show. The lead singer has a Spanish name, a French band-moniker, and sometimes speaks in an German accent, apparently mimicking Nina Hagen. I think she wants to be Nina Hagen (Nina also puts on a great show, BTW). She did the only stage dive I saw all week, crawled around on the floor, and shouted lyrics at us from the back of the club, sans microphone, before returning to the stage. The club was crowded and I couldn't get close enough to get a decent shot.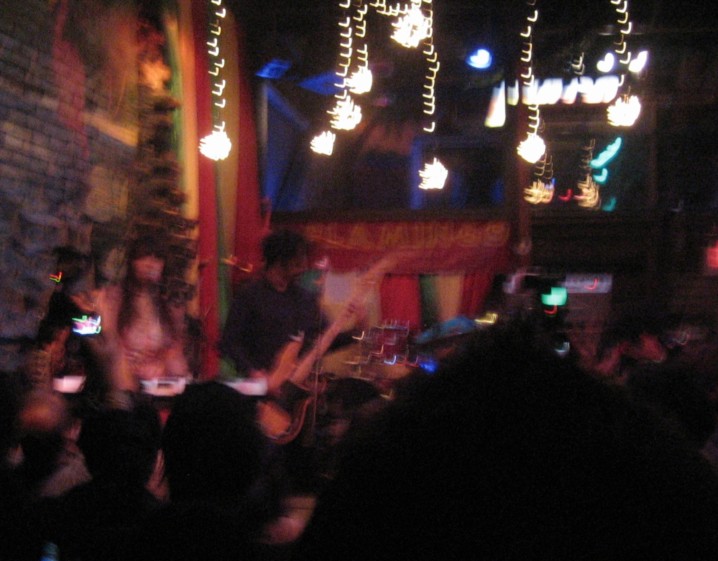 Another blurry photo showing, band, stage, and hanging strings of Christmas lights over the stage. She tried to swing from one of the lights but it didn't hold her weight. Lights and singer fell. Band and singing continued. Great show. The music was pretty good too. I want to see them again.

Hope Atlantic, midnight, The Parish Underground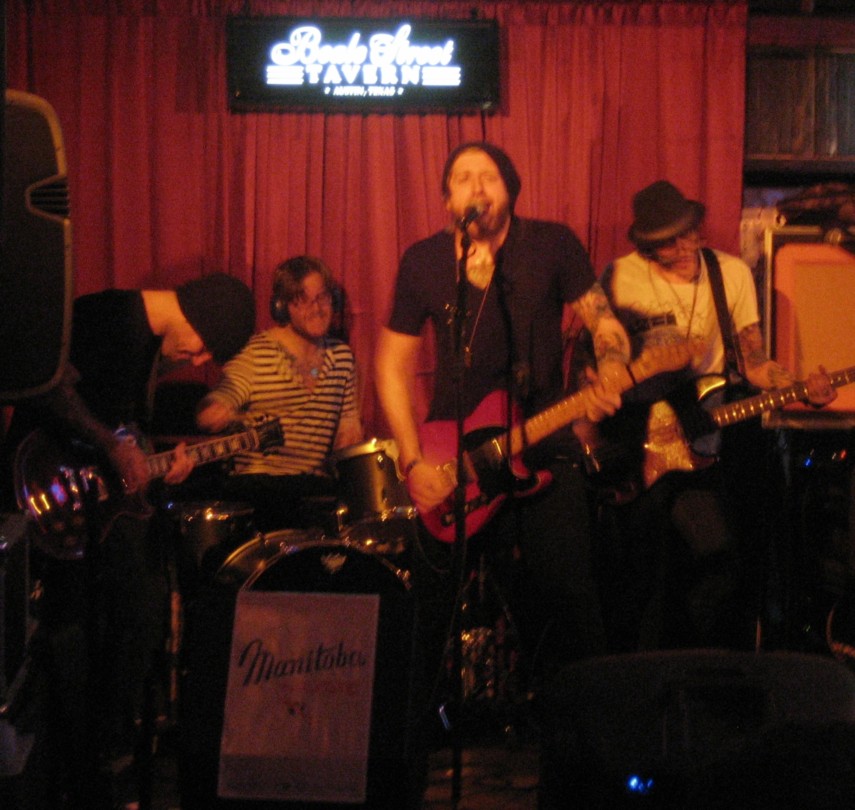 A rock band from Canada. As related by their lead singer in a mangled rush of words, these guys were very excited to be at SXSW. He was so earnest that I felt bad to be taking up space in the bar that might better have been filled by a record industry weasel. I enjoyed their set anyway.


Friday 3/18
Laura Jansen, early afternoon, Berklee College of Music Party, Friends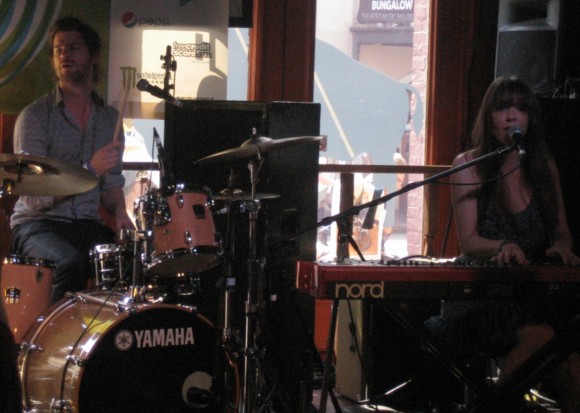 During the day at Southby, they have "parties," where lots of artists, often from the same label or from the same region of the world, play lots of short sets. I spent time at the Berklee College of Music party, where I figured I'd at least hear some good musicianship. I really enjoyed Laura's singer-songwriterish set. Hopefully I'll get to hear more from her in the future.

The Boston Boys, early afternoon, Berklee College of Music Party, Friends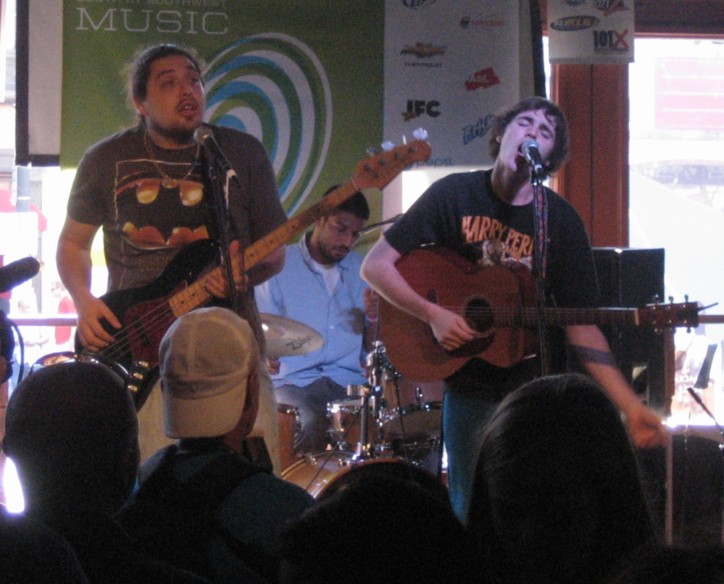 I was prepared to dislike these guys just because of their lame moniker, but they were actually pretty good.

J Mascis, 3:50 pm, Radio Stage, Austin Convention Center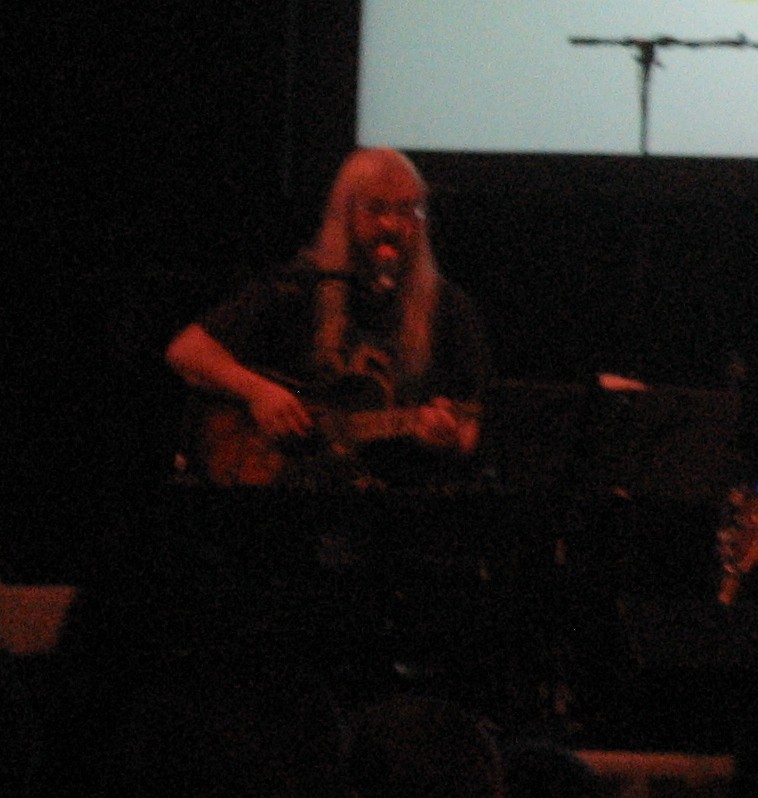 I only heard the first three songs by J because also I wanted to check out another band playing nearby. He used to front the noisy Dinosaur Jr, but is now promoting his quieter solo album. I heard enough to know I want to hear more.

Pepper Rabbit, 4 pm, Dot Com Stage, Austin Convention Center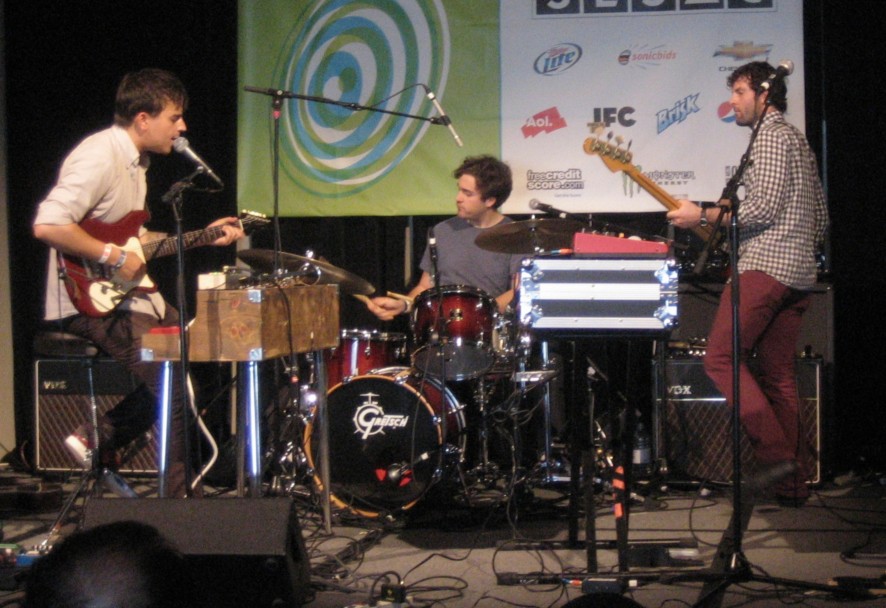 Very fun! Sort of prog/pop. I'm going to check into them further.

Lady Lamb the Beekeeper, 5 pm, Dot Com Stage, Austin Convention Center

Lady Lamb is an electric emo singer-songwriter. Her songs--rushes of words, emotion and melody--were perhaps the best new sounds I heard at SXSW. She's amazing.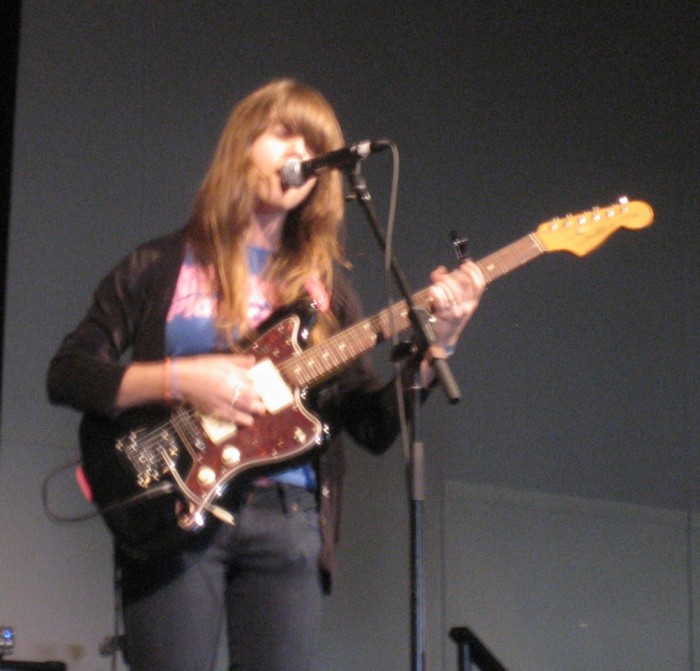 Usually when I hear a band I like, it's because of the music. Next I need to hear some more of them to see if I like the songs. When Lady Lamb played, it was just her and her electric guitar in a quiet room. I could hear the songs clearly and they were brilliant. Is it just me or are rock clubs lousy venues for listening to music?

Back in my hotel room I listened to her latest album via audio stream. She doesn't have a record label, but her albums can be downloaded via the Bandcamp web site. Also on iTunes, I think. She'll be in Washington DC on April 17. I'll be there. Update: I enjoyed her show and picked up her demo CD. Quite good.

Shilpa Ray and Her Happy Hookers, 8:25 pm, Buffalo Billiards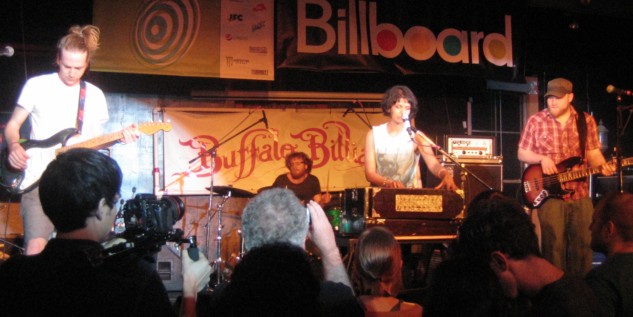 Shilpa Ray sings and plays an harmonium, an old-fashioned accordion-like instrument that I associate with delicate music, as in the Penguin Cafe Orchestra's Music for a Found Harmonium. She plays it like it's a punk rock instrument and is backed up by a hardcore guitar/bass/drums trio. At least that's how it seemed to me--I later heard her studio recordings, which are more varied and quite good. Perhaps all the intensity blasting from the stage was shorting out my brain.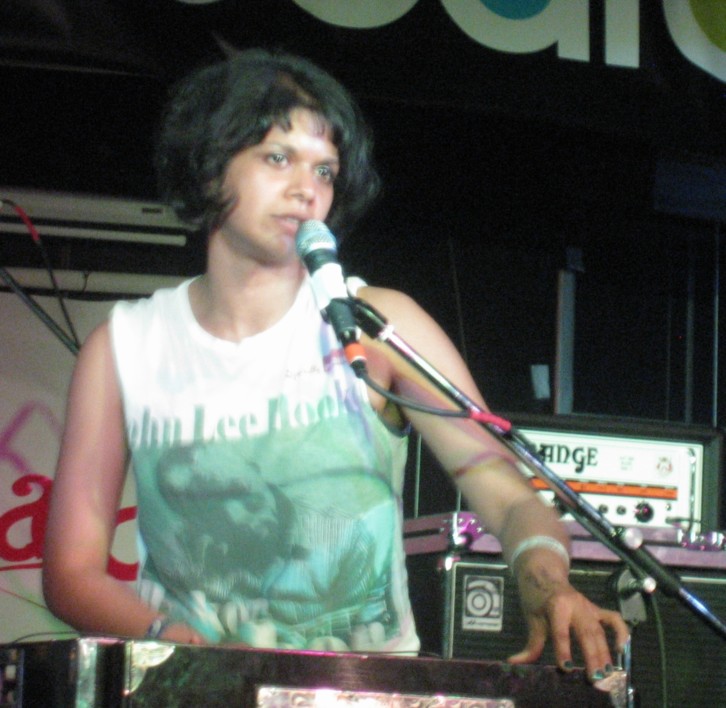 I really liked the quieter parts of her songs. And liked the songs I later heard on line. I'll be listening to more of her.

Noxshi, 9 pm, 512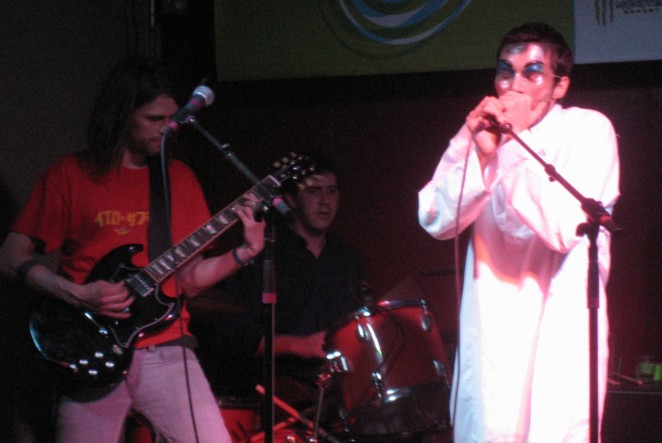 Weird rock music. I enjoyed it in the club but am not sure I'd want it in my livingroom. During the instrumental bits the lead singer amused himself buy changing up masks and costumes. I will investigate further.

Thao with the Get Down Stay Down, 11 pm, Antone's

I think Thao and Shilpa must have attended the same "how to name the guys in your band" workshop.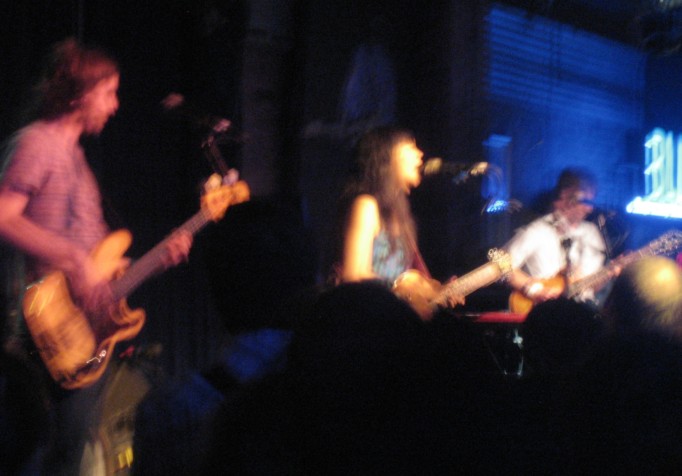 Thao is Thao Nguyen, which is helpful to know if you if you want to find her CDs on the web. She led a great set of rocking, slightly twangy music, played to a very crowded house. I later looked up her songs online and plan to buy a CD. Very good stuff. Sorry for the shaky photo (large venue, very crowded). She'll be in Washington DC on June 10. I'm looking forward to it. Update: Her "Thao and Mirah" concert didn't appeal to me as much as her work with the GDSD, but I picked up two of her albums ("We brave bee stings..." and "Know better...", and have been enjoying them a lot. Recommended.

Tizzy Bac, Midnight, Lamberts

I arrived having forgotten that Tizzy Bac is a popular band from Taiwan. I was met with a sea of asian faces and wasn't sure I was in the right place. As soon as I heard the music it all came back to me and I enjoyed the set.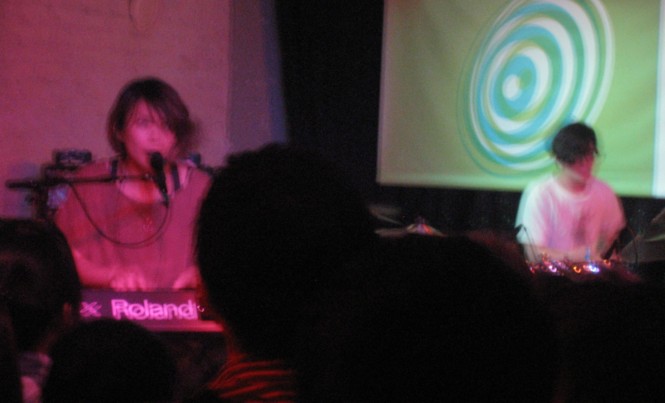 Sure they were singing in Chinese (I think), but I usually can't understand what the singinger is singing about anyway. Great power pop noise.

Okkervil River, 1 am, Antone's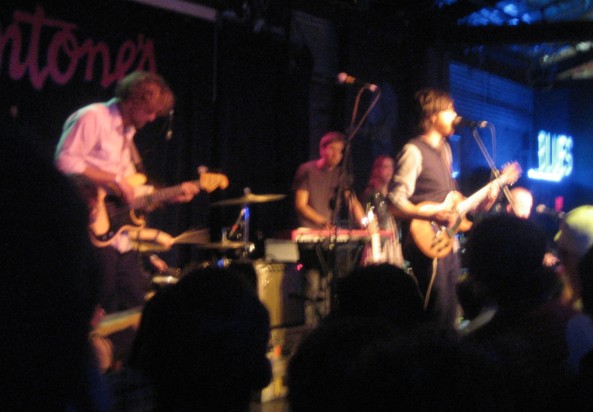 This was the only show I attended by an artist that I already knew and loved. The set was more rocking than I expected with lots of new songs, but they put on a great show and I ate it up. Another highlight.


Saturday 3/19
Saturday was my least favorite day of SXSW. I was tired. Zoned out. The drinks were stronger than I was. I had assembled my Saturday schedule too rapidly, at the last minute, and with too many sketchy ideas. Despite all that, great music happened. I even got to hear some of it.

Rachel Sage and the Sequins, early afternoon, Mpress Records Party, Soho Lounge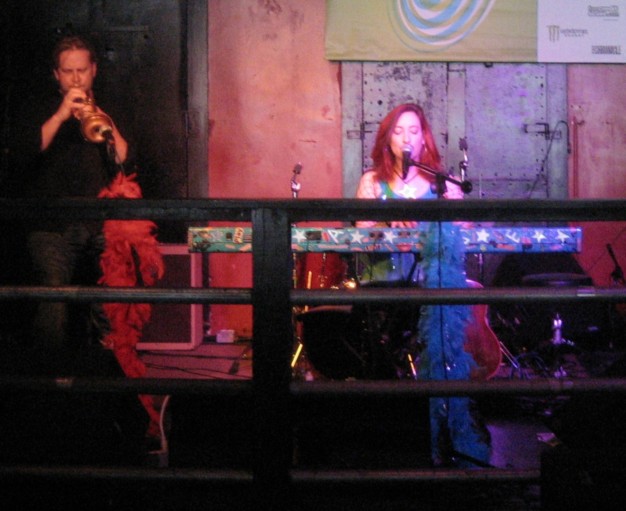 Rachel was playing at nice party with free food. Her music was fun and boppy. Jazzy folk.

Kitten, late afternoon, Chop Shop/Atlantic Party, Brush Square Park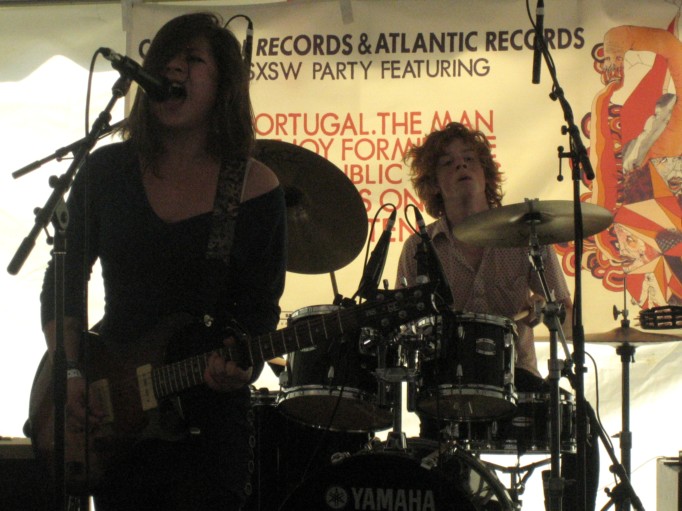 I saw Kitten was playing again and craved hearing a band I already liked. It was very hot under the tent where the bands were playing, but Kitten rocked...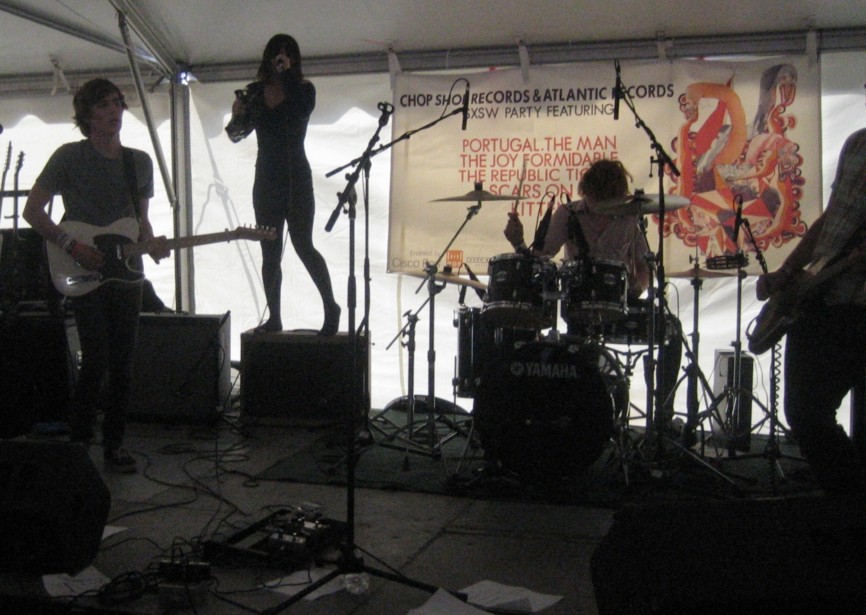 ... and lead singer Chloe Chaidez found an amp or two to climb on. This party featured free drinks and was the only event where I stood in line to get in.

Republic Tigers, late afternoon, Chop Shop/Atlantic Party, Brush Square Park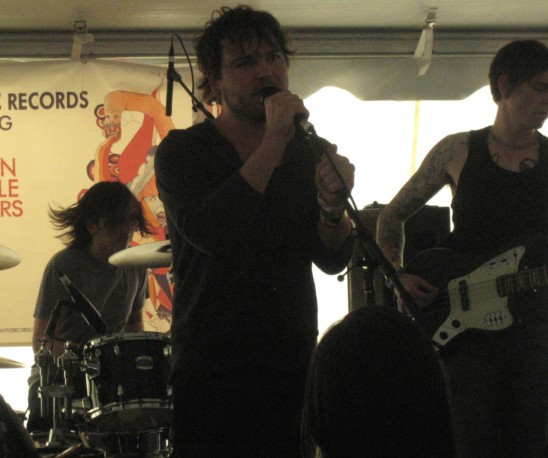 These guys followed Kitten and were pretty good. Atmospheric rock/pop sounds.

Takashi Kamide, 7 pm, Mellow Johnny's

Too damaged to ride my bicycle, I walked over to Mellow Johnny's after a tasty dinner and an excellent but too-strong margarita at Maria Maria's. Mellow Johnny's is Lance Armstrong's bike shop, but the music wasn't in the bike shop. It was in the parking lot out behind the bike shop. I sat down.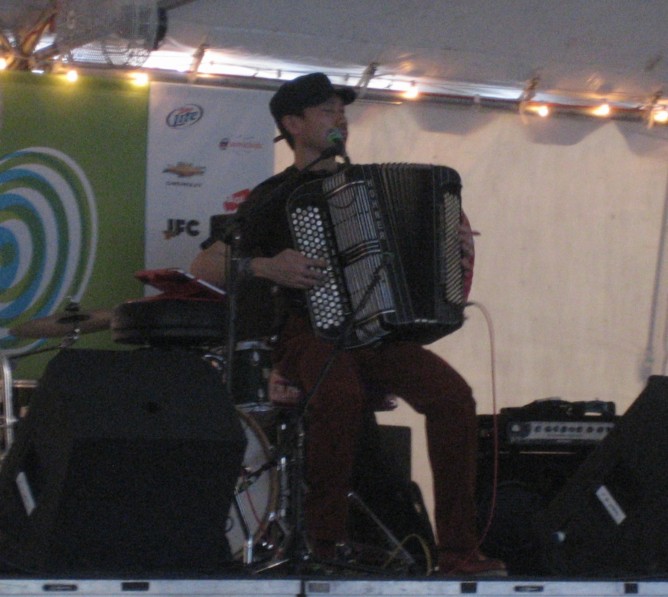 It's a Japanese dude playing an accordion. And why did I select this again? While he played, the wind picked up and stayed up, creating a rattling metallic backdrop to the accordion. I was in a frame of mind to appreciate the surreal contrasting sounds more than the music itself, so I did. Mr. Kamide was very polite, standing and bowing after each tune. At the end of his set, the small, supportive crowd called for an encore and he provided one--the only encore I heard at the event. Now soberer, I got back on my bicycle and back to the noisy stuff.

I later looked up Mr. Kamide on line. He has led an amazing life and plays delicate music on a vintage accordion. In the SXSW program guide, his music is compared to that of the Penguin Cafe Orchestra. Worth a listen.

Eliza Doolittle, 8 pm, The Tap Room at Six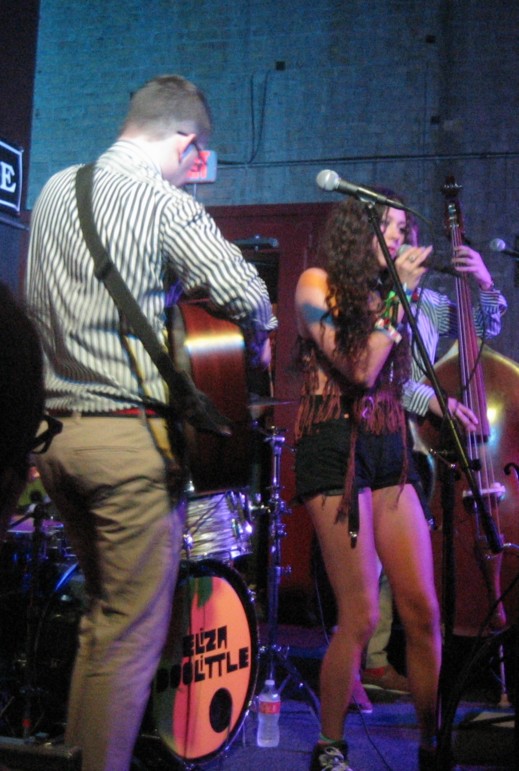 Unlike Shilpa and Thao, Eliza didn't have a clever but slightly-humiliating name for her band. But she did make them wear bow ties. Retro jazzy pop music. Very fun. Worth checking out. Update: I found her CD "Eliza Dolittle" in a used CD shop and checked it out. It's brilliant! Very clever songwriting, fun melodies and arrangements, and great singing. But it's really about the songs. For a while "Rollerbaldes" was stuck in my head. Then "Missing." Today it's "Skinny Genes." Apparently this has been selling like hotcakes in the UK.

Candi and the Strangers, 11 pm, Malaia

Five people, squeezed onto a tiny stage. One drummer. The rest playing electronic keyboards or other synthesized-sound devices. Very pretty songs. Layers of sound. My favorite band of the day.



Their latest album can be heard online via audio stream. I've listened to it three or four times. It's growing on me.

I Got You On Tape, Midnight, Speakeasy

Midnight at the Speakeasy. The band I had actually come to see was elsewhere in this same club. I knew I was hearing something other than planned, but was too exhausted to solve that problem.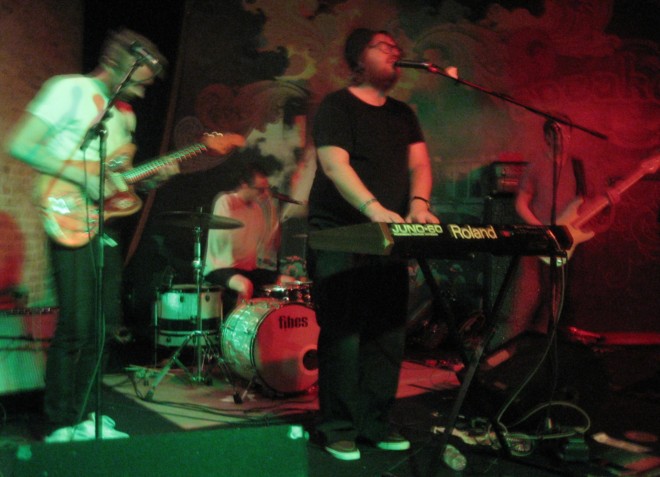 Instead I took in I Got You on Tape, who had traveled all the way from Copenhagen to play to this rather tough room (is it just me, or do the crowds get chattier as Southby nears its end?). Trippy music.

So that's about half of the 40 or so artists I saw at Southby and most of the people that caught enough of my interest for me to remember them with a photo. Thanks for reading.



Back to Jonathan's Page. Comments, if any, to jonathan@jonathankrall.net.


My SXSW Diary / Jonathan Krall / revised June 2011